Posted on
November 8th, 2010
by ASEE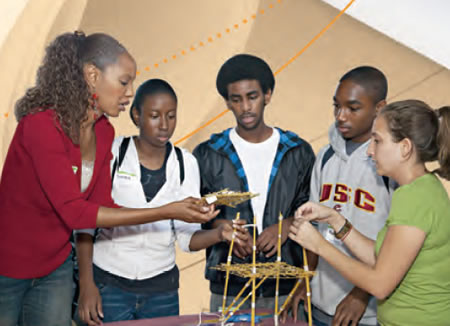 Image from ACE Mentor Program
The ACE Mentor Program, which introduces high school students to careers in architecture, construction, and engineering, doesn't think small. "Dream," William McDowell, of the Barnes Foundation museum outside Philadephia, told 22 teenagers from Carver High School for Engineering and Science. Their assignment: design an imaginary Envision Peace museum.
Christopher Thach, 17, took the advice and started imagining, the Philadelphia Inquirer reports. He envisioned a cavelike sphere with rooftop spikes jutting toward the sky and aurora lights to make the building glow.
Meanwhile, at Souderton Area High School in Montgomery County, ACE students will be designing a whole high school building.
The 15-year-old program, which has an expected enrollment this year of 250 students in the five-county Philadelphia area, offers teenagers the chance to learn from industry professionals, working alongside them in internships, visiting job sites, and designing buildings based on the real-life specs of those going up in the region.
Results? According to a 2010 ACE study, 66 percent of the program's 50,000 alumni nationally are either studying architecture, engineering, construction, and the skilled trades, or are already working in one of those fields.
Filed under: K-12 Education News