Posted on
September 28th, 2017
by Mary Lord
After Hurricane Harvey flooded Houston and the Texas coast with historic rains, rendering roads impassable, engineering educators from Texas A&M University offered a quick, inexpensive way to survey the damage.
They deployed drones – lots of them – in the biggest squadron ever used in official disaster response, according to the National Science Foundation.
The federal agency, which sees promise in this emerging field in areas from weather research and wildlife conservation to cheaper monitoring of America's aging infrastructure, has committed $35 million to advance basic research in this emerging field.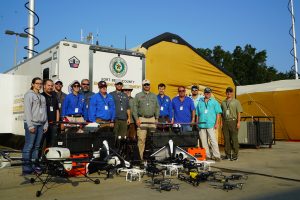 Aggie drones evaluated the conditions in the Corpus Christi shipping channel and checked on dams and other infrastructure. Texas A&M's Center for Robot-Assisted Search and Rescue (CRASAR) deployed 119 drone flights in 11 days, including helping Fort Bend County officials monitor river heights and assess damage to the Brazos River bridge. (Video above and photo, right).
The Center, which has NSF support, also sent drones to survey New Orleans in Hurricane Katrina's wake – the first time an unmanned aerial system was used in emergency damage assessment.
Jerry Hendrix, executive director of the university's Lone Star UAS (unmanned aerial system) program, said this was a preview of how governments would respond to disasters in the future. "Like police officers are trained to work in K-9 units, there will be search and rescue professionals trained to use drones," he told the Corpus Christi Caller-Times.  
One advantage for drones over helicopters is their ability to fly lower and closer to obstacles, such as bridge struts, to get better vantage points on conditions on the ground. For example, homes that looked fine from high above turned out to be washed out when viewed lower down. "Some areas look like a war zone without the craters," Hendrix told the newspapers.  "Some vacant lots look fine, but you realize there were houses there before."
Drones also have been deployed to carry vaccines and other medical products into disaster zones. Zipline, a California robotics start-up, has completed 1,400 flights and delivered 2,600 units of blood to health facilities in Rwanda over the past year, according to The Verge. The drones, which have a range of 45 miles and can carry packages of up to 3.3 pounds, are able to deliver medical goods around the clock in any weather, usually within 30 minutes of an order placed via a mobile phone.
While unmanned drones are still in the test phase, Texas A&M team's involvement in recovering from the late August 2017 hurricane suggest a wide variety of useful roles. The Federal Aviation Administration issued at least 137 UAV authorizations to groups involved in response and recovery operations in Texas. Less than two weeks later, the agency issued another 132 authorizations to similar groups in Florida after Hurricane Irma slammed into the Sunshine State on September 10. Drones revealed the full extent of Hurricane Irma's impact on the Florida Keys (video below) and monster Category 5 Hurricane Maria's devastation of Puerto Rico,
Meanwhile, Aggie engineering researchers continue to upgrade search and rescue robots dispatched to scour the rubble for survivors after earthquakes and examine the radioactive environment after a tsunami damaged the nuclear power plant in Fukushima, Japan.
Filed under: Special Features
Tags: Drones, engineering research, Environmental Engineering, hurricane, National Science Foundation, Robotics, Science, search and rescue, unmanned aerial systems, Videos