Posted on
July 19th, 2010
by ASEE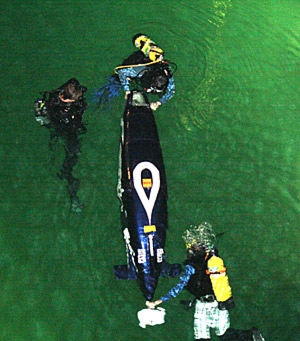 Dates: June 27-July 1, 2011
The Foundation for Underwater Research and Education (FURE) and the ISR Organization have announced the dates of the 2011 International Submarine Race, June 27–July 1, at the Naval Surface Warfare Center's Carderock test tank facility in Bethesda, Maryland.
This race will be the 11th in a series of biennial races that test the creative skills of young engineering students from colleges, universities and technical and high schools from throughout the world. Teams wearing scuba gear compete in one- and two-person "wet" submarines designed to run submerged along a 100-meter measured course in Carderock's model basin.
Two-person subs must have one person providing the propulsion and the other navigating and steering. Both crew members breathe SCUBA from the air supply carried aboard. Each sub is unique, designed from "scratch," and relies upon novel techniques for propulsion and guidance.The International Submarine Race's specific goals are:
To inspire students of the various engineering disciplines to delve into broad areas of underwater technology advancement and to provide them an educational experience that translates their theoretical knowledge into reality.
To foster advances in subsea vehicle hydrodynamic, propulsion and life support systems.
To increase public awareness of the challenges people face in working in and exploring the ocean depths.
Updates to the Contestant Manual will be posted on this website's Contestant section. Until that time, those interested in ISR participation may obtain ISR rules and guidance from the 2009 manual on this site. Some minor adjustments are anticipated.
Interested parties may continue to contact race officials as listed on the website's Contacts section.
Filed under: Grades 9-12, K-12 Outreach Programs, Web Resources
Tags: Competitions for Students, Grades 9-12, Marine engineering, Ocean science, U.S. Navy