Posted on
July 3rd, 2017
by Mary Lord
Imagine not being able to pick up a glass of water, open a door, or play catch because you had no hands.
Now imagine you're a biomedical engineer and can help amputees regain dexterity – with the help of a home 3D printer.
That's what high school students discovered by designing, building, and testing prosthetic hands at the University of Oklahoma's Boeing Engineering Days at the Gallogly College of Engineering in June.
"What I really want students to get is it's so accessible," Rachel Childers, assistant professor of biomedical engineering, told the Norman Transcript. With 3-D printers costing  less than $200, "you could print this hand at home."
Each team had to demonstrate how their hands operate by picking up and moving objects from one place to another, for example using a downward motion of the wrist to close the fingers. Electrodes attached to their arms let students measure the electromagnetic pulses that activate muscles – and then use that information to predict who would win an arm-wrestling contest.
In addition to building prosthetic arms, the students learned about developments in tissue growth, brain imaging, and drug delivery methods for cancer patients.
Teachers also had a table in this class. Science teacher Richard St. Denis told Oklahoma City's News 9  that he encourages his students to look into jobs in science and technology as a way to unlock their creativity. "In a lot of public education now it's all about just memorization of stuff where in the scientific community they value creativity and really that's what we're seeing in engineering," St. Denis said.
Meanwhile, the Washington Post reports, George Mason University bioengineering students created a prosthetic that allows 11-year-old Isabella Nicola, who was born without her left hand and part of her forearm, to keep playing the violin. University of Central Florida engineering undergraduates built a "cool robo-arm" for a six-year-old whose parents couldn't afford a $40,000 prosthetic, while University of Louisville biomedical engineering students make 3D printed prosthetic hands for kids in their rehab engineering course.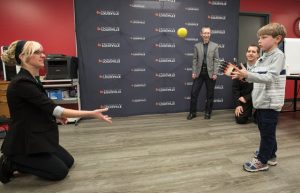 And USA Today published  a feature on biomedical engineering students at the University of Cincinnati (photo, right) w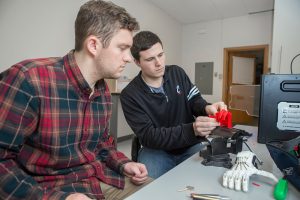 ho started a club – EnableUC – in 2015 to make $20 3D-printed hands for local kids. So far, the undergraduates have built hands and other prosthetic devices for 46 individuals, including three-year-old Ella Morton, shown above in the YouTube video.
Photo/Joseph Fuqua II/UC Creative Services
The first recipient was a 13-year-old boy named Brady who was born with a partially formed right hand and had trouble steering a bike or throwing a ball.
Engineering students are involved in creating assistive technologies beyond artificial limbs. Ohio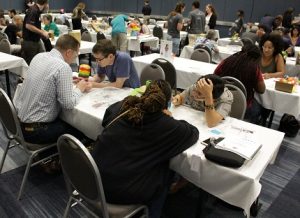 State University's College of Engineering launched a Toy Adaptation program in 2015 that puts students together with community members to take apart and re-engineer toys so kids with disabilities can use them. The group hosted a service event at ASEE's 2017 Annual Conference in Columbus that drew dozens of families, engineering students, and teachers.
Photo: Francis Igot, ASEE
Filed under: K-12 Education News, K-12 Outreach Programs, Special Features
Tags: assistive technologies, Biomedical Engineering, Engineering outreach, engineering summer programs, George Mason University, Ohio State Toy Adaptation program, Programs for Students, Prosthetics, Summer Camps & Programs (Students), University of Cincinnati, University of Oklahoma Gallogly College of Engineering, violin