Posted on
May 28th, 2013
by Mary Lord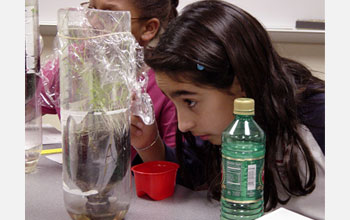 Looking for a way to make probability come to life in your multicultural math class and assess which students "got it?" How about a fun activity that gives high-school students a hands-on feel for fundamental calculus concepts and also meets state content standards?
The Harvard-Smithsonian Center for for Astrophysics has compiled a digital video library full of curriculum-enhancing lessons, assessment tools, and case studies –  all developed and used by teachers in their classrooms. These "Videos to Enhance Understanding and Teaching of K-12 Learning Goals," as the project is called, feature:
•  Clinical Interviews of Student Ideas
•  Demonstrations of Phenomena
•  Case Studies of Instruction or Research
•  Interviews with Experts
•  Correlations to state and national curriculum standards
Clips can be searched for in a variety of ways. They can be sorted according to  national or state math and science standards and by grade level. They also can be searched by strand; by AAAS benchmarks; and by instructional criteria, such as "engaging students in real-world problems" and "habits of mind."
The collection of 1,017 movies includes a range of topics. For example, one short clip shows how third grade  students make models of the life cycle of amphibians and go on a field trip.
Among the "What's the Point?" series on embedded math and science assessments is a high school teacher describing a probability activity where students receive bags of M&M's and make predictions about the number of each color in one bag, a group of bags, etc. They consider how the data changes as the sample size increases, then use a "Did I?" assessment list to see how well they had mastered the concepts. Another video in the series shows high school seniors seeking to solve a real-life problem – the Catwalk – based on Eduard Muybridge's sequence of 24 photographs of a cat in motion. By calculating how fast the creature is moving in frame 10 and frame 20, students glean a visual and kinesthetic understanding of fundamental ideas underlying calculus.
The library was assembled by the Science Media Group, part of the science education department of the Harvard-Smithsonian Center for Astrophysics and producer of "A Private Universe."
Filed under: For Teachers, K-12 Outreach Programs, Web Resources
Tags: astrophysics, Engineering Design, Harvard-Smithsonian Center for Astrophysics, Internet Resources, Mathematics, STEM education, Videos, Web Resources