Posted on
May 13th, 2015
by Mary Lord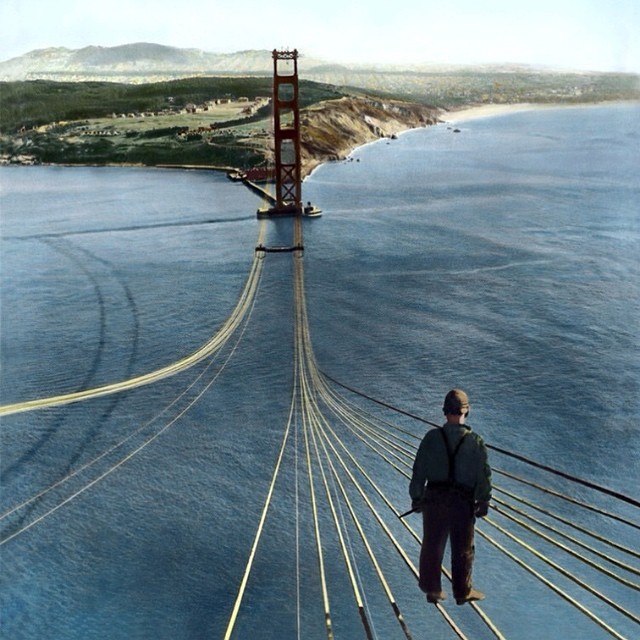 When California's Golden Gate Bridge opened on May 27, 1937, some 18,000 people sprinted, strolled. or roller-skated across its 4,200-foot causeway at the start of a week-long celebration of this engineering feat. Deemed one of the Seven Wonders of the Modern World by the American Society of Civil Engineers, San Francisco's iconic span held the title of world's longest suspension bridge until 1964, when the Verrazano-Narrows Bridge opened in New York City.
The idea of a bridge across the mile-wide strait between the San Francisco peninsula and Marin County had surfaced a various times in the past, the proposal gained traction with the 1916 publication of a newspaper article by a former engineering student. San Francisco's City Engineer estimated the cost at a prohibitive $100 million and asked bridge engineers if it could be built for less.  Joseph P. Strauss, an ambitious engineer and poet who, for his graduate thesis, had  designed a 55-mile-long railroad bridge across the Bering Strait between Alaska and Russia, responded. His initial design called for a massive cantilever on either side of the Golden Gate strait, connected by a central suspension segment. Estimated cost: $17 million.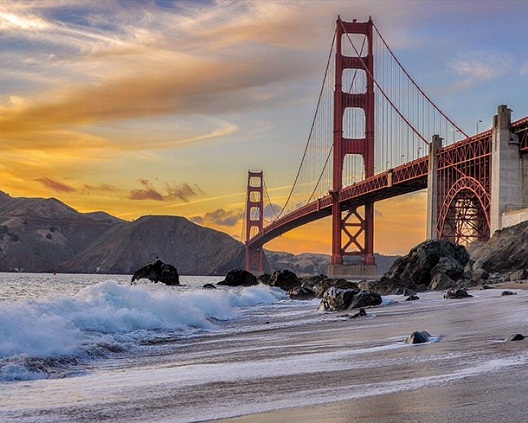 Check out these contemporary images and videos as well as a Bethlehem Steel documentary of the bridge's construction (YouTube 26:10) and  historic photos of the bridge's construction and chief engineer Joseph P. Strauss.
It took more than a decade for Strauss to overcome opposition and litigation to win support for the project. The fledgling automobile industry proved a big ally. Wall Street's crash in 1929 and ensuing Great Depression sent the state scrambling for funds and pushed the start of construction back to January 5, 1933. The project was completed ahead of schedule and below budget at roughly $35 million. Read the poem Strauss wrote commemorating the bridge's completion, and a brief history of the construction the Virtual Museum of the City of San Francisco.
While Strauss remained in charge of the overall design and construction of the bridge as chief engineer, he lacked experience with cable-suspension designs and his initial idea was visually unappealing.  Leon Moisseiff, designer of New York's Manhattan Bridge and the ill-fated original Tacoma Narrows span, conceived of the elegant suspension design that ultimately was built. A little known residential architect named Irving Morrow designed the overall shape of the towers, the Art Deco streetlights, and other elements.
Among Strauss's notable contributions was his pioneering use of worker safety gear. The Golden Gate Bridge saw the first use of hard hats, harnesses, and safety nets, cutting bridge-worker fatalities from an average of one per million dollars spent and saving the lives of 19 men who fell during construction.
Film clip from final days of construction shows worker safety gear:
[youtube]http://www.youtube.com/watch?v=DnysytJJt2U[/youtube]
Today, tourists flock to Golden Gate National Recreation Area for a glimpse of nature as well as the span described by the San Francisco Chronicle when it opened as a "thirty-five million dollar steel harp!" Almost since its inception, the bridge has played a prominent role in popular culture, featured in Hollywood blockbusters as Alfred Hitchcock's The Birds and destroyed by Godzilla.
Meanwhile, construction continues on the iconic span, including a $76 million project to install netting to deter suicides  and seismic retrofits of the towers and spans.
Filed under: Special Features
Tags: Civil Engineering, construction, engineering history, Golden Gate Bridge, Suspension bridge