Posted on
July 17th, 2011
by Jaimie Schock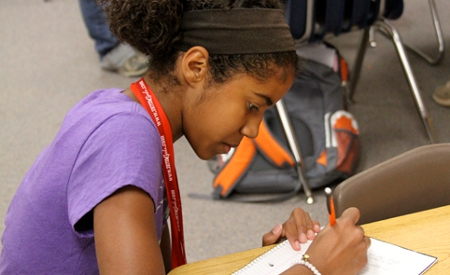 Image from ASU Girls in Engineering
Fewer than 18 percent of engineering undergrads are female. In an attempt to find the best ways to bring more women to the field, Arizona State University (ASU) education specialist Tirupalavanam Ganesh will soon begin a study of sixth grade girls as they explore hands-on learning experiences focused on engineering.
The multi-year study beginning this year is called "Girls in Engineering: Shaping the Future" and will involve 60 girls in several middle schools in the Phoenix area, says an ASU news release. It will follow and document their progress through middle and high school.
Initial funding of $20,000 comes from the Engineering Information Foundation, a national non-profit organization that supports efforts that promote recruitment of women into engineering.
Ganesh is an assistant professor of engineering education in the School for Engineering of Matter, Transport and Energy. "It's important to have a mix of our nation's citizenry be represented in science and engineering enterprises," he says. "We don't want females to simply be consumers of technology. We want them to be involved in shaping, designing and building new technologies."
He believes successful recruitment will require communicating to female students that engineering is relevant to progress in society. Their sense of curiosity must be fostered, Ganesh says, and attempts to attract them to the field must begin when they are young. The study will focus on how such efforts can be accomplished more effectively.
Filed under: K-12 Education News
Tags: Girls Education, Higher Education, Outreach, Programs for Girls, Research on Learning, University outreach, Women in Engineering