Posted on
February 8th, 2010
by axb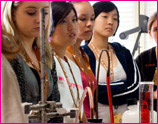 Date: March 27, 2010, 9 a.m. – 5 p.m. Level: Girls, grade 8. Location: SDSU, Crothers Engineering Hall, Brookings, South Dakota. Cost: $10.
This one-day workshop for 8th grade girls provides an opportunity to explore interests in science and technology. Students  interact with professional women from industry, as well as with professors and students from SDSU. The goals of the workshop are to introduce 8th grade girls to engineering, math, and science through a highly dynamic program of hands-on activities; increase student and parent knowledge of engineering, math, and science with regard to academic preparation and professional opportunities; provide an environment that facilitates learning and excitement about engineering, science and math; and inspire 8th grade girls to continue to pursue the courses of study introduced in the workshop.
Planned Session Activities:
Forensics – Who Dunnit? Solve a crime using forensic science! In this hands-on project, GEMS participants will take fingerprints, classify fingerprints and dust for fingerprints. They will analyze four mystery powders and study teeth imprints. They will measure the "culprit's" footprints to extrapolate how tall he or she might be. Lastly, they will solve the crime by using deductive reasoning to eliminate suspects from further investigation. A great interactive project with a large dose of science, math, analysis and fun!
Storytelling Alice Create a 3D animated movie! Storytelling Alice is a programming environment designed to help middle school students learn to program computers while telling a story.  It includes high-level animations with pre-programmed actions, a gallery of 3D characters and scenery designed to spark story ideas, and a story-based tutorial.  GEMS participants will learn how to use Storytelling Alice and create a short 3D animated movie of their own.  It's a fun, interactive way to learn about computer programming!
Bridge Building In this session we will discuss what engineers do and what kind of careers an engineer might enjoy. We will also do 3-4 hands-on projects! The projects revolve around building bridges. We will design, construct, and test various bridge projects. The girls will learn more about material properties, the physics of trusses, and the characteristics of bonding elements such as gumdrops. These projects provide students with the opportunity to put their engineering knowledge to practice.
Please see the Website for more information and the online application.
Contact: South Dakota State University – GEMS, Box 2219, CEH 201, Brookings, SD, 57007; Phone: 605-688-4161
Filed under: Grades 6-8, K-12 Outreach Programs
Tags: Grade 8, Programs for Girls, Women in Engineering, Workshops