Posted on
November 14th, 2012
by Mary Lord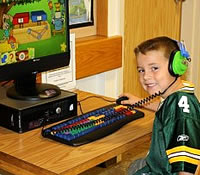 Do your students enjoy gaming? Harness their interest – and boost their STEM learning – with the Got Game design contest sponsored by STEMFuse, a STEM education site with courses created by teachers, for teachers.
This twice-a-year competition is open to middle and high school students, competing in two divisions:
Junior Division: 5th – 8th Grades
Senior Division: 9th – 12th Grades
Winners receive Best Buy gift cards and a curriculum subscription for their school to FREE GAME: IT! Games must be completely original and created using  Game Maker or Game Maker Lite on Windows or Mac.  (The Lite version is available as a FREE download.)
The deadline for submission is 11:59 pm on January 11, 2013

Click HERE for contest rules. Contact Mike Bayless – mike.bayless@stemfuse.com or 320-266-5157 – with any questions.

To see the winning spring 2012 games, click HERE.

Filed under: Grades 6-8, Grades 9-12, Grades K-5, K-12 Outreach Programs
Tags: Competitions for Students, computer, Computer Engineering, Contest, games, gaming, STEM education, STEMFuse, Technology