Posted on
March 10th, 2017
by Mary Lord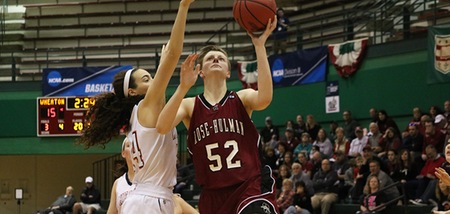 Think engineering means crunching equations 24/7?
Meet the Rose-Hulman Institute of Technology's women's basketball team, which just made the NCAA playoffs for the first time in the school's history. All 13 players are engineering majors.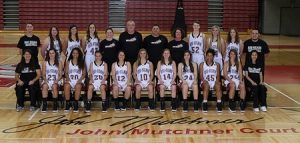 That includes #52, Josie Schmidt, shown above in the NCAA opener. She's a senior in chemical engineering. (The Fightin' Engineers narrowly lost the opening game to Wheaton and were eliminated.)
While a full court of engineering undergraduates may be unusual, individual students have managed to find success as players and as engineers. Ukari Figgs, who majored in mechanical engineering at Purdue University, rose from the tobacco fields of Georgetown, Ky., to MVP of the 1999 NCAA women's basketball championship team. Basketball helped pay for college and allowed the 5-foot, 9-inch point guard to travel, including meeting President Clinton in the White House. After graduation, Figgs was drafted by the WNBA and played for five seasons, helping the Los Angeles Sparks win their first championship before joining the University of Kentucky as assistant athletic director for women's basketball and then returning to her hometown to work as an engineer in Toyota's auto plant in 2013.
Men's basketball also has its share of hoopster engineers. For instance, 8 of the 14 players on the Massachusetts Institute of Technology's 2016/17 men's basketball squad – the Engineers – are engineering majors. While they may not have many engineers on their teams, many of USA Today's top colleges for basketball, including 2016 March Madness champion Villanova, also have great engineering schools.
Some engineering hoopsters go pro. Two of the Sportster's top 20 "smartest" NBA players – free agent Danny Granger, most recently with the Miami Heat, and Butler University grad Gordon Hayward of the Utah Jazz – graduated with degrees in engineering.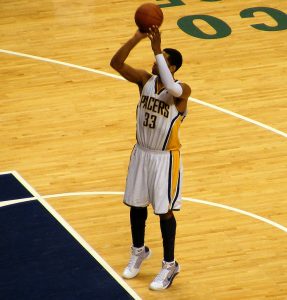 Meanwhile, basketball has benefited from the work of engineers in countless ways, from the dimpled ball that is easier to handle and shoot, to high-performance shoes that cushion jumps and precise timers for those buzzer-beater. game-winning throws.
So next time you're dribbling down the court or teeing up a free shot, thank (or cheer for) an engineer!
Photo of Danny Granger by  Chris Isherwood – CC BY-SA 2.0
Filed under: Special Features
Tags: basketball, Engineering, March Madness, MIT, NBA, NCAA, Purdue, Rose-Hulman, STEM, Ukari Figgs