Posted on
July 18th, 2017
by Mary Lord

The College Board, which administers the Advanced Placement program, and Khan Academy, an online nonprofit offering resources and videos, are partnering to create free test-preparation and course materials for teachers and students in every AP subject.
"You might say we're offering every AP teacher a personalized assistant in their classroom," College Board president David Coleman told Education Week guest blogger Stephen Sawchuk. "We're giving them an ability throughout the year to show what good enough work is, to have confidence that assignments derived from these materials are at the right level of rigor."
The move builds on a collaboration, launched in 2014, to offer free online resources and tutoring for the SAT college-entrance examination.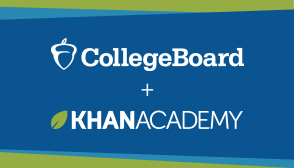 The new teacher supports, which will roll out in the 2019-20 school year, will include an online dashboard for use in developing customized quizzes, homework, classroom activities, and AP practices. Teachers will be able to access previously administered AP exam questions and prompts as well as unit guides and related unit tests. They also can assign instructional videos and practice questions from Khan Academy, which will host additional practice materials, videos, and supports for students. Up first: AP Calculus AB and BC videos, expanding within a few months to include economics, biology, and physics, among other subjects.
The initiative comes in response to teachers asking for personalized resources to help them break down AP expectations and better prepare students for the year-end exams. It's also a reflection of the increasing diversity of  AP students and their academic backgrounds, Coleman said.
As is the case now for SAT prep materials, students need not create profiles to access the Khan Academy AP resources. Those who do log in, however, will be able to set up personalized programs for gauging their progress over time towards mastery of the material.
Khan Academy already offers materials on several AP subjects, including Calculus, Physics 1, Physics 2, Chemistry, and Biology.
Will free online resources help level the field for students and schools that can't afford private test prep? In a report released in 2017, the College Board and Khan Academy found correlations between the number of hours spent on the practice system and gains in scores on the PSAT to the SAT. The College Board plans to conduct similar research on the AP resources.
Meanwhile, Khan Academy has teamed up with a Stanford University research group to offer LearnStorm (video, above). The free, six-week Back to School challenge for teachers and students aims to refresh skills while cultivating a growth mindset. Registration opened August 15, 2017, with activities beginning in September.
Filed under: For Teachers, Grades 9-12, K-12 Education News, K-12 Outreach Programs, Special Features, Web Resources
Tags: Advanced Placement, Internet Resources, Khan Academy, online test prep, Resources for Teachers, Teacher Resources, Web Resources