Posted on
December 23rd, 2013
by Mary Lord
Ever walk through a store's toy department and wonder: Who dreams up these action figures, games, and other fun stuff?
Toy engineers get to play for a living. That's how they invent new designs that will engage or educate kids. Engineers also work to improve the process for manufacturing and testing toys, and they design the packaging. Graduating Engineer and Computer Careers magazine detailed some of the projects toy engineers work on, including Nerf gun design and interactive games that combine action figures with computers.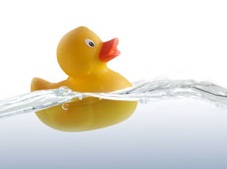 Some toys have deep ties to engineering. The iconic yellow rubber ducky, for example, used a process for turning rubber into a malleable material developed by Charles Goodyear. The first rubber ducks didn't float – they were solid rubber chew toys. By the 1940s, however, today's floating version began bobbling in bathtubs nationwide.
The National Toy Museum's Hall of Fame has more stories about toys and their inventors. More toy history and online games can be found at the National Museum of Play in Rochester, N.Y.
You don't have to be an engineer to invent toys. Ron Weingartner, co-author of The Toy and Game Inventors Handbook, worked around designers and creative people as part of the team that created Bop It! and other educational toys at Milton Bradley.
Who knows? Perhaps the next big thing will be toys that inspire and teach kids about engineering!
That's what Stanford University engineer Debra Sterling did. She invented GoldieBlox, a problem-solving building toy to get more girls excited about studying engineering.
Watch GoldieBlox inventor Debbie Sterling describe her project:
Filed under: Special Features
Tags: action figures, Design, Engineering Design, engineers, games, Goldiblox, Ideas & Inventions, toy engineering