Posted on
January 21st, 2010
by ASEE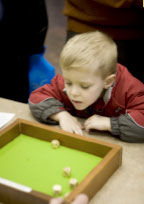 Date: Feb. 21, 2010. Level: grades 3 and up
It's a party for children who bring an adult with them to learn about the world of physics. (There's plenty for the grown-ups, too.)
The Open House will be most appropriate for children in grades 3 and up (tours restricted to adults and children age 10 and up).
A tentative schedule of events includes:
• Mr. Freeze's fabulous cryogenics show
• Physics concepts with hands-on activities
• Ask a scientist your physics questions.
• A tour of the linear accelerator, CDF, or the Meson Lab.
• And more!
Contact: Fermilab Education Office, Nancy Lanning: edreg@fnal.gov
Directions to Fermilab (Batavia, IL 60510; (630) 840-8258 fax: (630) 840-2500
Look at pictures from the 2007 (pdf) and 2008 Open Houses.
Filed under: Grades 6-8, Grades 9-12, Grades K-5, K-12 Outreach Programs
Tags: Physics