Posted on
May 3rd, 2010
by Jaimie Schock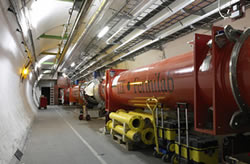 Illinois' Fermi National Accelerator Laboratory, which specializes in high-powered energy and accelerating nanoparticles, provides a vast collection of educational programs, materials, and curriculum aids. FNAL offers videos, tours and field trip planning, online resources, lesson plans and activities, classroom presentations and volunteer visiting lecturers, workshops for both teachers and students, games, a science center, web-based classroom projects, open houses, weekend programs, an outdoor fair, magazines and publications, symposiums, summer research opportunities, internships, undergraduate and graduate-level accelerator physics courses, and more.
FNAL's Leon M. Lederman Science Education Center is a place for K-12 educators and students. It houses the Teacher Resource Center, the Quarks to Quasars Hands-on Exhibits, technology and science labs, and a store. The Center is open to the public Monday – Friday 8:30 am – 4:30 pm; and on Saturdays from 9:00 am to 3:00 pm. On holidays, call to check if the LSC is open. The Lederman Science Center is named for Nobel Laureate and former FNAL Director Leon M. Lederman.
The
Teacher Resource Center
provides a preview collection of K-12 instructional materials. TRC services include professional development workshops, consultation assistance, bibliographies, and reference assistance. Educators have access to curriculum materials, books, multimedia, educational supply catalogs, periodicals and newsletters. The collection also includes reports on science and mathematics education, standards, assessment, equity and other topics. Visitors also have access to selective, password-protected websites. The TRC is open Monday through Friday, 8:30 a.m. – 5:00 p.m. The TRC is also open on Saturdays from 9:00 a.m. to 2:00 p.m. Staff is available to assist science, mathematics and technology educators with curriculum and instruction issues.
Read more about FNAL and other National Labs and their outreach to K-12 education in this special feature article.
Filed under: For Teachers, Grades 6-8, Grades 9-12, Grades K-5, K-12 Outreach Programs, Web Resources
Tags: Curriculum, Internet Resources, National Laboratories, Web Resources