Posted on
March 15th, 2010
by ASEE
Space Science Mentor
This article, from Prism magazine, March 2009, profiles a Kentucky professor who involves his undergraduates in satellite launches.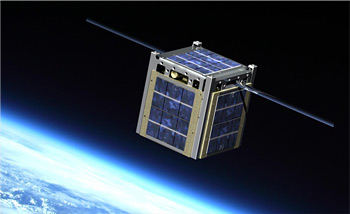 "We're trying to pull them in earlier and earlier," says center director Benjamin Malphrus. Besides a retention tool, "it's a manpower issue."
Malphrus put his students to the test soon after he arrived in the Appalachian foothills to teach astronomy and planetary science in 1990. With a National Science Foundation grant, Morehead acquired an old Nike-Hercules radar antenna and built a 13-meter radio telescope. "The darned thing worked," Malphrus says, still sounding nonplused. "The students literally did most of the design." His undergraduates, he says, make up in work ethic what they lack in preparation.
Read the entire article in Prism Magazine online.
2010 Update: KySat-1,  the satellite produced by the Kentucky Space consortium, in conjunction with Malphrus and his students, will hitch a ride on NASA's November 2010 Glory Mission, carrying into orbit a camera that will support a scientific outreach program for K-12 Kentucky students. Read more, find images of KySat-1, and get further updates on the Kentucky Space Site.
[youtube]http://www.youtube.com/watch?v=pSPCBckJJEE[/youtube]
Filed under: Special Features
Tags: Aerospace, Astronomy, CubeSat, NASA, Satellites