Posted on
April 12th, 2010
by ASEE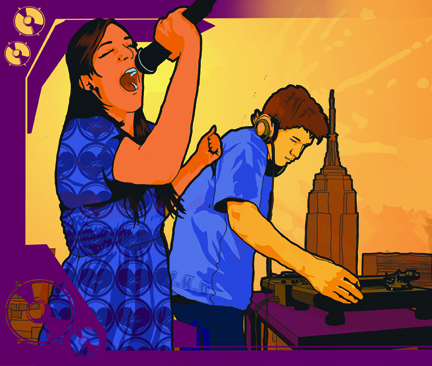 An explosion of digital technologies means that making and listening to music will never be the same. — an article from eGFI magazine, Vol. 3
The dance between technology and music has long been a close one. Now, the tempo of that tango is picking up speed. Breakthroughs in engineering and electronics are radically altering how music today is played, recorded, distributed and listened to. Want a surefire way of becoming a big noise in the music biz? Earn an engineering degree.
For instance, the combined efforts of engineer Adolph Rickenbacker and musician George Beauchamp in 1931 resulted in the first electric guitar. So solid was its basic engineering that the technology has changed little since then.  However, Gibson, maker of the iconic Les Paul electric guitar, now offers a digital version engineered to send the sound directly to a computer hard drive. Synthesizers emerged in the 1960s, and Kurzweil sampling keyboards became popular 20 years later. The next big thing could be a robotic drummer that engineers at Georgia Tech have devised. It has the stamina of a drum machine but can play real skins — and even improvise.
Music producers now rely on cutting-edge technologies that let them layer and mix countless tracks to create a whole sound. Software is even available to fix off-key voices and bum notes after the fact. While earning his Ph.D. in electrical engineering at Georgia Tech, Matthew Lee developed a device that makes tinny voices sound fuller and richer.
Engineers are also behind a boom in amateur recording equipment that allows do-it-yourselfers to make professional-sounding recordings with little more than a laptop and a microphone. "You can record an entire album in your bedroom and get great results," says Kenneth Pohlmann, the electrical engineer who heads the University of Miami's program in music engineering.
Miami pioneered the music engineering degree 30 years ago, and its graduates have worked for recording artists ranging from Johnny Cash to Weezer. Other grads have put their skills to use in shaping sound for TV, radio, movies, electronic games and software. The money's pretty good, too: Salaries usually start around $65,000 to $70,000.
And of course, more and more people are downloading their music these days. The breakthrough in digital music sales came not from music industry execs but from the minds of engineers. Case in point: Apple's phenomenally successful iPod and its companion online music store iTunes. Growing even faster are sales of mobile music: ringtones, ringtunes and ringbacks.
Technology is also helping producers pick hits by eliminating the guesswork. Music Intelligence Solutions' software, Hit Song Science (HSS), works on the discovery that popular songs all use various combinations of similar mathematical parameters, whether the genre is rock, pop, rap, classical or country. Indeed, the math signatures in 50 Cent's rap smash, "If I Can't," are close to those in the country hit, "There's No Getting Over Her," though the songs sound very different. HSS, which relies on a database of popular tunes from the last 30 years, has an impressive hit-prediction rate of 98 percent. Next time you're about to download a song that's topping the charts, you'll know why.
Filed under: Special Features