Posted on
October 25th, 2010
by ASEE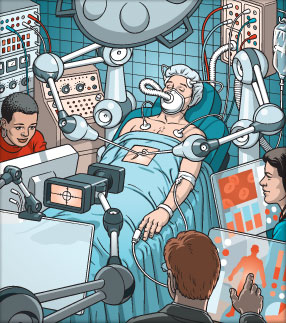 Engineers offer ways to get American healthcare off the 'critical' list. — from the October 2008 issue of Prism magazine, by Thomas K. Grose
As a nurse, I'm a menace. One of my patients was a seemingly vibrant 28-year-old male whom I diagnosed as having a mild case of the flu. Clearly, it was more serious, because he's dead now. In fact, of all the medical assessments I've made, only two have been right. So it's fortunate for everyone that I'm not really a health worker; I'm just playing one in the online game HealthAdvisor. I review the symptoms, medical history, and lifestyles of men and women of various ages and states of health. I assess their individual ailments and — in theory — determine the appropriate physician and treatment. The object is to keep everyone alive without blowing my budget. But with me in control, HealthAdvisor is a more lethal gaming experience than Grand Theft Auto IV.
If HealthAdvisor sounds fun and interesting, it is. Hard, too. But the point of the game is to educate, not entertain. It's the brainchild of engineers at the Georgia Institute of Technology's Tennenbaum Institute, a multidisciplinary research center focused on healthcare delivery and global manufacturing. HealthAdvisor's creators call their creation a "virtual healthcare system where new products, concepts and policies can be tried out," intending it as an open-source portal for people who aren't necessarily healthcare professionals. "We're trying to harness the power of the masses, to see if we can come up with some good ideas," says William Rouse, Tennenbaum's executive director.
The complex issues of U.S. healthcare have long concerned medical professionals and policymakers. But given the overwhelming problem of spiraling costs and tens of millions of Americans lacking basic health insurance, experts from other fields are now being consulted, including engineers. With their problem-solving techniques and technologies — including mathematical modeling, simulations and data-mining — engineers are well-positioned to help render healthcare more efficient, effective and affordable. And as new and different models are conceived, engineers can help design and support them, analyzing if and how well they are working. "There is a great need for engineering solutions," says Kenneth J. Musselman, strategic collaboration director at the Regenstrief Center for Healthcare Engineering at Purdue University.
Read the entire article.
Filed under: Special Features
Tags: Computer Engineering, Computer Programming, games, Healthcare, Systems Engineering