Posted on
September 20th, 2010
by ASEE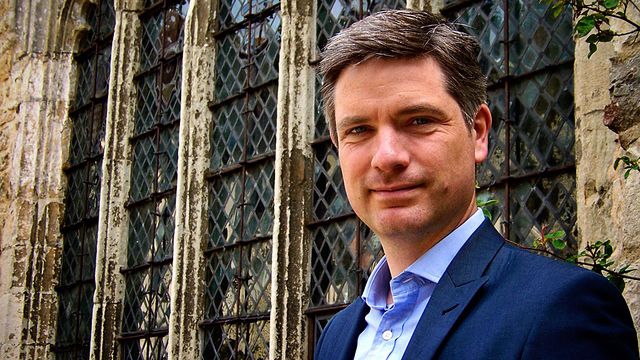 A Broadcaster zooms in on cutting-edge construction, old and new. — from the September 2010 issue of ASEE's Prism magazine, by Thomas K. Grose
LONDON – British academic and TV broadcaster Jonathan Foyle spent much of this past summer doing a bit of urban climbing – an extreme sport that requires practitioners to clamber the exteriors of buildings, à la Spiderman, using some of the same techniques as rock climbers. But Foyle wasn't indulging his inner thrill-seeker. He scaled the sides of some of Britain's most iconic buildings to popularize the history of British engineering and architecture.
Foyle's exploits were being filmed for Scaling Britain, a 15-part BBC TV program that debuts this fall. In it, as he climbs the 15 historic buildings or structures, he explains the engineering and architectural significance and breakthroughs of each, and some of the science that underpins their construction. "I discuss the many technical leaps of the last 1,000 years," he says, such as the physics behind flying buttresses or the materials science that enabled medieval architects and construction engineers to design ever larger stained-glass windows, like those in the 14th-century New College at the University of Oxford. It's a fun and entertaining way to explain historic engineering principles to millions of viewers – in the U.K and the United States.
The urban-climbing element is certainly a hook that seems guaranteed to lure an audience, but Foyle insists it's no gimmick: "There's a real purpose to the climbing. It allows viewers to see the buildings up close." And that makes it easier for him to point out details not visible from the ground.
The series debuts with St. Albans Cathedral in Hertfordshire. Much of the current cathedral dates back to just after the Norman Conquest of 1066, but there remain remnants of the even older Saxon church. Here, Foyle points out how the older church used an early version of recycling – it was built from bricks taken from old Roman roads.
Another show features St. Paul's Cathedral in London, the masterpiece work of 17th-century architect Sir Christopher Wren. Its dome towers 365 feet into the sky and is second only in height to St. Peter's Basilica in Rome. "We explore how, in creating Britain's first great dome, Wren married new scientific ideas with established, subjected aesthetics," Foyle says. The dome is actually three domes in one: between the exterior and interior domes is a hidden, narrower one that provides necessary support.
The most modern building included in Scaling Britain is the Imperial War Museum North in Manchester, which was designed by renowned architect Daniel Libeskind and opened in 2002. The aluminum-clad, "fragmented-globe" of a building "is almost an inhabited sculpture," Foyle explains.
Liam Keelan, the BBC's daytime controller, has said that the network sought out Foyle for the show because he's "a respected expert and broadcaster" well suited "to help bring the wonder of architecture to a wider audience." That's for sure. Foyle has a bachelor's degree in architecture and a doctorate in buildings archeology, both from the University of Kent, and he's hosted several TV programs on architecture. He's also CEO of the World Monuments Fund Britain, which endeavors to save historic structures, and was formerly buildings curator at Hampton Court Palace and Kew Palace.
Foyle developed a lifelong passion for historic buildings as a teenager bicycling around Lincolnshire, where he grew up. And while Scaling Britain is aimed a general audience, Foyle nevertheless says he "very much hopes" the urban-climbing aspects will help it attract a significant number of younger viewers. Still, the 41-year-old Foyle jokes, if the BBC wanted purely to appeal to teenagers "they wouldn't have picked someone my age."
A crucial aspect of this gig that Foyle wasn't prepared for was the climbing. It had never before occurred to him to scamper up the buildings he so loves, and he spent much of the spring taking lessons. "But I found, to my surprise, that I quite enjoy it." Especially when his safety harness is clipped on good and snug.
Filed under: Special Features
Tags: Architectural, Architecture, Television, Television show