Posted on
April 19th, 2010
by ASEE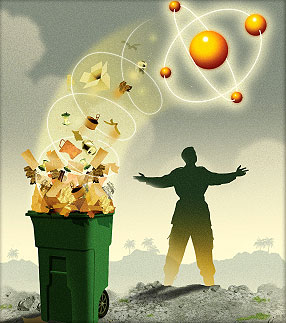 Researchers devise new technologies to protect troops, including a trash-to-energy refinery. But a solution to roadside bombs remains elusive — an article from ASEE's September 2008 issue of Prism magazine, by Megan Scully.
When garbage piles up in an American city, it's a nuisance and a health hazard. But at U.S. Army bases in Iraq and Afghanistan, it's also a security burden. Locally hired trash haulers can be infiltrated by terrorists and so need to be watched and followed. Incinerators, an alternate means of disposal, are no safer. They require fuel, and truck drivers delivering diesel to military outposts can fall prey to highway ambushes by insurgents.
Enter James "Jay" Valdes, the science adviser for biotechnology at the Army's Research, Development and Engineering Command, responsible for fielding new technology. He posed the question, "Could we use the garbage to make fuel and thereby get rid of the garbage and help keep the convoys off the streets?" In 2003, he explored the idea in a paper for the Army's Small Business Technology Transfer Research program, and the following year teamed up with Defense Life Sciences LLC, a McLean, Va., firm that develops bio-energy products, and with biological and agricultural engineers at Purdue University.
The result is TGER, for Tactical Garbage to Energy Refinery — a portable refinery, about the size of a panel truck, that can devour up to 2,000 pounds of food waste, paper and plastic trash a day, and has a power output of 60 kilowatts.
Over the spring and summer, two prototypes of the refinery underwent 90 days of field testing amid the dust and 112-degree temperatures at Camp Victory, the sprawling base near Baghdad's international airport that houses 30,000 troops. "We chose Iraq because we wanted a low-infrastructure, very austere, very hostile, harsh environment," says Valdes, who visited Iraq in June to check on the tests. "We got it." TGER's scientific and engineering principles proved to be sound, but Iraq's summertime heat exposed mechanical problems that need to be fixed before the refinery is battlefield ready. Valdes likens the experience to "flying an airplane while you're building it."
Read the entire article on Prism online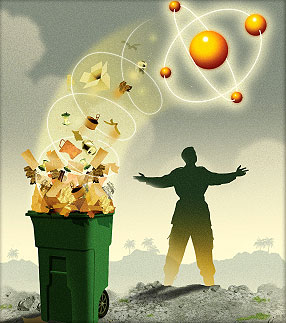 Filed under: Special Features