Posted on
September 20th, 2010
by ASEE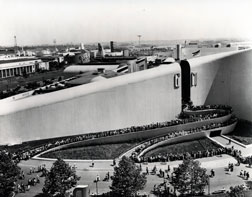 Dates: October 2, 2010 -July 10, 2011. Location: National Building Museum, Washington, DC.
Between 1933 and 1940 tens of millions of Americans visited world's fairs in cities across the nation. The Designing Tomorrow exhibit at the National Building Museum, in Washington, D.C., will explore the modernist spectacles of architecture and design they witnessed — visions of a brighter future during the worst economic crisis the United States had known. The fairs popularized modern design for the American public and promoted the idea of science and consumerism as salvation from the Great Depression.
Participating architects, eager for new projects at a time when few new buildings were being financed, populated the fairgrounds with an eclectic modern architecture. Pavilions housed innovative and dynamic exhibitions that paid tribute to factory production, technology, and speed. Exhibits forecasted the houses and cities of tomorrow and presented streamlined trains, modern furnishings, television, and talking robots.
Designing Tomorrow will feature nearly 200 never-before-assembled artifacts including building models, architectural remnants, drawings, paintings, prints, furniture, an original RCA TRK-12 television, Elektro the Moto-Man robot, and period film footage. The artifacts are drawn from the featured expositions: Chicago, IL—Century of Progress (1933–34); San Diego, CA—California-Pacific International Exposition (1935-1936); Dallas, TX—Texas Centennial Exposition (1936); Cleveland, OH—Great Lakes International Exposition (1936-1937); San Francisco, CA—Golden Gate International Exposition (1939-1940); and New York, NY—New York World's Fair (1939-1940).
Image credit: General Motors Building, New York World's Fair, 1940. Courtesy Albert Kahn Family of Companies.
Filed under: For Teachers, Grades 6-8, Grades 9-12, K-12 Outreach Programs
Tags: Architecture, Building Design, Design, Engineering in History