Posted on
May 24th, 2010
by ASEE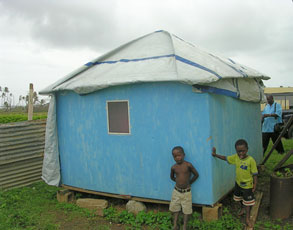 Design for the Other 90%
This online exhibit, hosted  by the  Smithsonian's Cooper Hewitt Museum, highlights the efforts of engineers,  designers, students and professors, architects, and social entrepreneurs from all over the globe to devise cost-effective ways to increase access to food and water, energy, education, healthcare, revenue-generating activities, and affordable transportation for those who most need them.
The Website is divided into thematic sections of shelter, health, water, education, energy, and transportation. Focusing on global efforts to address these issues, it serves as an excellent resource for teachers and students.
The museum also provides a number of lesson plans related to the "Design for the Other 90%" exhibit in its Educator Resource Center and a teacher forum, in its Conversations section.
To learn more about the projects featured in the exhibition, access teacher resources, and watch videos, visit other90.cooperhewitt.org.
A free traveling exhibit is visiting Washington, D.C.  through September 6, 2010 at the National Geographic.
Filed under: Web Resources