Posted on
August 2nd, 2010
by Jaimie Schock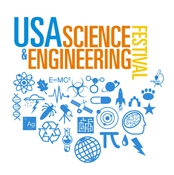 When: October 23 & 24, 2010
Where: The National Mall, Washington, D.C.
The USA Science & Engineering Festival will be the United States' first national science and engineering festival. The series of events will culminate in a two-day Expo on the National Mall that will give over 500 science & engineering organizations from all over the country the opportunity to present themselves with a hands-on, fun science activity to inspire the next generation of scientists and engineers.
The Festival's mission is to re-invigorate youth interest in STEM subjects by producing and presenting the most compelling, exciting, educational and entertaining science gatherings in the United States. The goal is to be the ultimate multi-cultural, multi-generational and multi-disciplinary celebration of science in the United States.
The Festival will offer multi-faceted programs with high entertainment value and integrity of scientific content. It will appeal to a large, diverse audience of all ages and backgrounds, from professionals to novices, amd from science enthusiasts to the merely curious, while engaging the greatest minds in science. It plans to involve the most dynamic leaders in business, technology, government, education, and culture and build a strong foundation of prestigious and impressive institutional partners, resulting in increased communication between the scientific and educational communities. The Festival's impact will be sustained through year-round programming and curriculum development and a content-rich, interactive website. It is hoped that the Festival will create a programming template to facilitate the development of more local festivals throughout the country.
For more information, visit the Festival's list of performances, blog, and FAQ.
Filed under: For Teachers, Grades 6-8, Grades 9-12, Grades K-5, K-12 Outreach Programs, Web Resources
Tags: Contests, Convention, Events, Family events, Science and Engineering Fair