Posted on
February 10th, 2011
by ASEE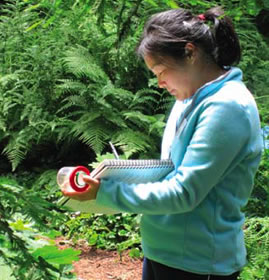 Dates: June 6-10, 9:30am – 3:30pm. Eligibility: K-5 teachers. Location: Golden Gate Park, San Francisco, CA. Cost: $100 ($50 refunded upon course completion).
Science in the Park
June 6 – 10, 2010

This  week-long,  standards-aligned teacher workshop is being offered at San Francisco's Golden Gate Park for those who teach grades K-5. Teachers will gain the tools, techniques and confidence to explore the outside world with their students, learning about forest habitats near and far as they record and reflect on their experiences using a simple but significant tool — the science journal. Discoveries will begin with individual trees that could be outside a school and then expand into the natural areas, gardens, and exhibits found in Golden Gate Park.
The workshop will explore investigation skills through the lens of forest ecosystems. Topics covered include climate, plant and animal interactions, and conservation. The workshop is designed to make science teaching more exciting and accessible for kindergarten through fifth grade teachers. Join us to see why past participants have been so excited about this program!
The Science in the Park worshop is presented by the San Francisco Botanical Garden Society and the California Academy of Sciences, and features the Conservatory of Flowers and the de Young Fine Arts Museum.
For more information, please check the Website or contact:Annette Huddle at ahuddle@sfbotanicalgarden.org; (415) 661-1316 ext. 407;  or Helena Carmena at hcarmena@calacademy.org; (415) 379-5105
Registration
To register, please fill out the application, enclose a check for $100 made out to "San Francisco Botanical Garden Society." Upon completion of the entire course, participants will be given a $50 rebate. Please mail your check to:
Annette Huddle
Assoc. Director, Youth Education
SFBG Society
1199 9th Ave.
San Francisco CA 94122
Filed under: For Teachers, K-12 Outreach Programs
Tags: California Academy of Sciences, Environmental science, Programs for Teachers, Summer Programs (Teachers)