Posted on
October 26th, 2010
by ASEE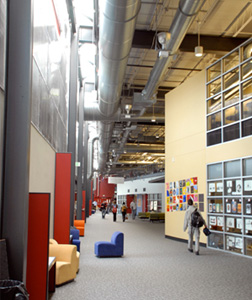 Date: Monday, November 8th, 2010, 6:30 p.m. to 9:30 p.m. Location: The Newseum, 555 Pennsylvania Avenue, NW, Washington, DC 20001.
The 21st-Century Classroom
Slate magazine and several leading experts in the field will lead a conversation about what sorts of classrooms our students deserve, and offer a chance to share your own ideas. What might a 21st- century classroom look like? What are the barriers to change? How can they be overcome?
The conversation will take place at the Newseum in Washington, D.C., at 6:30 p.m. on Monday, Nov. 8. Several education thinkers will talk briefly about the challenges and opportunities in redesigning American classrooms. Participants will  then split into groups and swaps ideas about fixing the classroom — ideas, and perhaps even actual plans, that will be published and publicized on Slate. Next will be a break for food and cocktails, and participants get a chance to meet fellow Slate readers, architects, educators, and students.
Click here for more information and to register for the event
Speakers
Host – David Plotz, Editor of Slate
Panelists – Jim Shelton, Deputy Assistant Secretary for Innovation and Improvement at the U.S. Department of Education;
David Ethan Greenberg, Founder of the Denver School of Science & Technology;
Leanna Archambault, Assistant Professor at Arizona State University's College of Teacher Education & Leadership
Moderator – Justin Cohen, President of the School Turnaround Strategy Group at Mass Insight
Background
American students have spent enough time in uncomfortable, inflexible learning spaces. Slate is looking to reimagine the classroom for the 21st century, with the help of your great ideas.
While other institutions have adapted their physical spaces to reflect changes in the way they do business—think of museums—the classroom remains the same as it did a century ago: a rectangle filled with desks. New designs include a few nods to technology and the importance of sunlight, but true innovation is still hard to come by.
For the past several weeks, Slate and its readers have been working together to reimagine the school classroom for the 21st century. Readers have submitted scores of fascinating ideas to the crowdsourcing project, involving everything from outdoor classes to hexagonal rooms to better furniture. (Check them out here.)
Filed under: For Teachers, K-12 Outreach Programs