Posted on
May 27th, 2010
by Jaimie Schock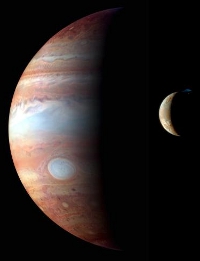 When: 1:00 p.m. EST, June 3, 2010
Grade Level: 6-8
Price: Free
Deadline for Question Submission: 6:00 p.m., June 1, 2010
NASA is launching a new robotic mission to Jupiter in 2011. Classrooms are invited to join NASA/JPL engineer Tracy Drain as she discusses why NASA is sending the Juno spacecraft to Jupiter, how it will get there, and what it will study. The conversation will be geared to students in grades 6 through 8. The live web chat on June 3, 2010, at 1:00 p.m. Eastern/10 a.m. Pacific, can be watched online.
Drain will be speaking live via video with a classroom in southern California. All classrooms may participate by emailing questions before or during the live chat for Tracy to answer. Possible topics to consider for questions are the sizes and distances of planets, planet formation, and space travel. Teachers can email questions to jplspaceeducation@gmail.com. Questions sent in advance should be emailed by Tuesday, June 1, 2010 at 6 p.m. Eastern/3 p.m. Pacific. Due to volume, there is no guarantee that every question will be answered.
More information about the Juno Mission can be found here.
Filed under: Grades 6-8, K-12 Outreach Programs
Tags: Aeronautics, Aerospace, Grades 6-8, Live Web Chat, NASA