Posted on
August 30th, 2010
by Jaimie Schock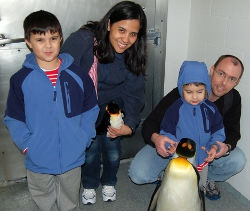 When: October 16, 2010, 4-7 p.m.
Where: 2952-H Chain Bridge Road, Oakon VA 22124
Cost: Free, but pre-registration is required
Ideaventions – A Discovery Lab for Kids hosts a celebration of science and engineering with hands-on activities for kids of all ages. Attendees will be able to build rockets, explore circuits, play with robotics, and prepare for Halloween by mixing a potion or two. Elementary and middle schoolers and their families are especially encouraged to attend.
The event is free, but pre-registration is required as space is limited. Please visit www.ideaventions.com to register. For more information, call 703-400-3706 or email info@ideaventions.com.
This event is part of the USA Science and Engineering Festival. Consult the list of satellite events to find one near you!
Filed under: Grades 6-8, Grades K-5, K-12 Outreach Programs
Tags: Events, Family events, Outreach, Programs for Families, USA Science and Engineering Festival 2010