Posted on
February 26th, 2010
by ASEE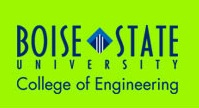 Date: April 17, 2010. Level: Students grades 7-10. Location: Boise State University. Application Deadline: April 1.
Discover Engineering at a free One Day Camp
Hosted by the Society of Hispanic Professional Engineers, Student Chapter, at Boise State University
Date: Saturday, April 17, 2010, 9:00 am – 4:30 pm
Location: Boise State University
Level: 7th, 8th, 9th & 10th grade girls and boys
Activities: • Edible Aquifer • Designer Bridges • Amazing Robotics • Creative Inventions • and more!
FREE lunch, snacks and door prizes too! Apply today: April 1 is application deadline
Contact Leandra Aburusa for an application at laburusa@boisestate.edu or 208-426-4432 or download an application by visiting the website.
NOTE: Transportation provided at Nampa, Caldwell, Wilder & Marsing High Schools.
Filed under: Grades 6-8, Grades 9-12, K-12 Outreach Programs
Tags: Grades 7-10, Hispanic Students, Programs for Students, Weekend programs