Posted on
March 29th, 2010
by ASEE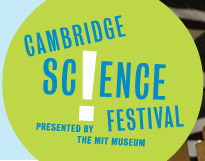 The Cambridge Science Festival is a celebration showcasing Cambridge, Mass., is a multifaceted, multicultural event that makes science accessible, interactive and fun, highlighting the impact of STEM in all our lives.
The Cambridge Science Festival offers a wide range of STEM-related activities – lectures, debates, exhibitions, concerts, plays, workshops, etc. – over nine days at a variety of locations. Modeled on art, music, and movie festivals, the Cambridge Science Festival makes STEM part of the wider culture by illuminating the richness of scientific inquiry and the excitement of discovery.
The Festival's collaborators – MIT, Harvard University, the City of Cambridge, Cambridge Public Schools, Cambridge Public Library, WGBH, and the Museum of Science – reach out to K-12 students, the general public, and the science community, to excite and ignite curiosity.
Filed under: Grades 6-8, Grades 9-12, Grades K-5, K-12 Outreach Programs, Web Resources
Tags: After School, Events, Grades 6-8, Grades 9-12, Grades K-5, Programs for Families, Programs for Teachers, Workshops