Posted on
August 30th, 2010
by Jaimie Schock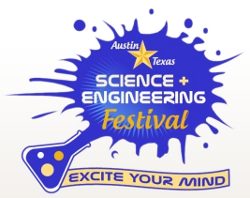 Dates: October 2 – 24, 2010, 8 a.m. – 5:30 p.m. Location: Austin Convention Center, 500 East Cesar Chavez St., Austin, Texas 78701-4121. Cost: Free
Organized by the Mexican American Engineers and Scientists organization, the Austin, Texas Science and Engineering Festival and its multiple events will showcase the  science and technology of Texas. It will culminate in a two-day Expo, Oct. 23-24, at the Austin Convention Center with over 200 exhibits of hands-on, fun science and engineering activities to inspire the next generation of scientists and engineers.
Students of all ages, families, general adults, and science professionals are encouraged to attend. Parking is available at the Austin Convention Center and surrounding parking lots. For more information, call (303) 926-0327.
This event is part of the USA Science and Engineering Festival. Consult the list of satellite events to find one near you.
Filed under: For Teachers, Grades 6-8, Grades 9-12, Grades K-5, K-12 Outreach Programs
Tags: Events, Expos, Family events, Hispanic Students, Programs for Families, Science and Engineering Fair, Student Conference, USA Science and Engineering Festival 2010