Posted on
November 6th, 2011
by Mary Lord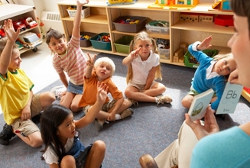 When Tennessee snagged $501 million as one of the first two federal Race to The Top winners, the U.S. Education Secretary praised state officials for having "the courage, capacity and commitment to turn their ideas into practices that can improve outcomes for students." The state even adopted a new motto: "First to the Top."
So why aren't educators like Will Shelton, principal of Blackman Middle School in Murfreesboro, jumping for joy? Race to the Top committed the state to evaluate teachers based in part on their students' test scores and regular observation by principals in their classrooms. While Shelton supports both ideas, the new rules, enacted at the start of this year, have translated into mountains of paperwork that keep him stuck at his desk for long stretches of the day.
"I've never seen such nonsense," he told the New York Times (11/7).  "In the five years I've been principal here, I've never known so little about what's going on in my own building." The rules also require Shelton to do as many observations for his strongest teachers — four a year — as for his weakest, which he calls "an insult to my best teachers," as well as "a terrible waste of time."
Part of the problem is that half of Tennessee's teachers aren't covered by state tests — those in kindergarten to second grade, for instance, or who teach art, music, and vocational courses. That prompted the state to create what the New York Times article called "a bewildering set of assessment rules" in which math specialists can be evaluated by their school's English scores, music teachers by the school's writing scores.
On Friday, Tennessee's education commissioner, Kevin S. Huffman, asked the State Board of Education for modifications to the evaluation rules to reduce the time burden on principals.
Meanwhile, a new report by the National Council on Teacher Quality reveals that 23 states and the District of Columbia currently use student test scores to evaluate teachers, up from four states just two years ago. In 2009, just 15 states even required teachers to be evaluated annually. Now, 24 states and District of Columbia Public Schools do.
Filed under: K-12 Education News
Tags: paperwork, Race to the Top, state board of education, teacher evaluations, Tennessee