Posted on
December 14th, 2009
by ASEE
DuPont Challenge© Science Essay Competition
The 24th annual DuPont Challenge© Science Essay Competition is underway and is accepting entries now through January 31, 2010. Designed to inspire young people to excel in scientific writing, the competition invites students in 7th through 12th grade to research and write a 700- to 1,000-word essay about a scientific discovery, theory, event
or technological application that has captured their interest.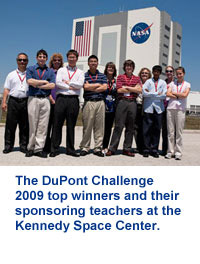 Essays are judged on mechanics and conventions; ideas and content; organization; style and creativity; and voice. Winners receive savings bonds up to $5,000 and an expenses paid trip to Walt Disney World and the Kennedy Space Center. The program also rewards the unique contributions of the teachers of the winning students with trips with winners, $500 education grants, and sponsorship to attend the 2011 NSTA National Conference on Science Education in San Francisco. Created to honor the Challenger astronauts, this competition is a great way to get students to push the limits of imagination and discovery. For more information on classroom use and the competition, visit the DuPont Challenge website.
Filed under: Grades 6-8, Grades 9-12, K-12 Outreach Programs, Web Resources