Posted on
April 16th, 2013
by Mary Lord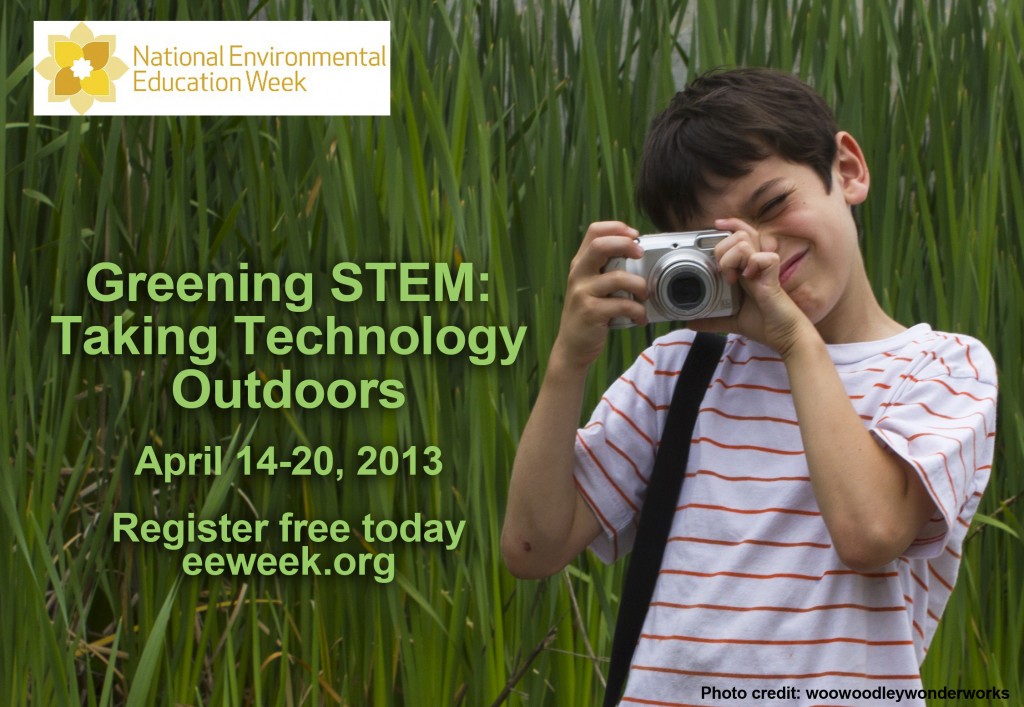 The environment, with its range of engaging, real-world challenges, gives teachers a chance to provide students with meaningful, hands-on experiences that reinforce STEM concepts across multiple subject areas. As mobile devices become increasingly embedded in daily life, they can enhance the way children experience nature. This year's National Environmental Education Week, which falls on April 14-20, 2013, reflects that idea in its theme – Greening STEM: Taking Technology Outdoors.
Events include free webinars for educators and a photo contest.
EE Week also publishes toolkits, or sets of activities and resources in popular environmental topic areas that incorporate elements of STEM.  Now being featured on the website is the Bioblitz planning toolkit.  EE Week and National Geographic Education continued to work together to develop this toolkit, equipping educators with activities and resources to conduct a schoolyard or local bioblitz with their students.
The National Environmental Education Foundation, Toshiba America Information Systems, Inc., and Project Noah present Using Technology to Connect Students & the Environment, a video on how technology can further STEM learning through the environment, both in nature and in the classroom.
The Educator Toolkit for Using Technology to Connect Students & the Environment is a companion to the video, and includes activities and resources at all grade levels for implementing a project similar to the one featured in the video.  You can download that toolkit here.
Filed under: For Teachers, Special Features
Tags: Class Activities, Competitions for Students, Contest, Environmental Education, Environmental Engineering, National Environmental Education Week 2013, Resources for Teachers