Posted on
January 25th, 2010
by Jaimie Schock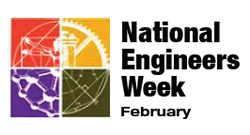 The Northeast Indiana Engineers Week Committee and the Anthony Wayne Chapter of the Indiana Society of Professional Engineers holds their annual Student Bridge Competitions for middle and high school students on Feb. 13 and Feb. 20 respectively. Students build a variety of different bridge models, and then their designs are tested by applying weight loads.
Students are judged on a point scale. First prize is $300, second is $200, and third is $100. Each entry may be an individual or team effort (maximum of three team members), with prize money split between the student(s) and their school or any organization that mentored the student. All area high school students are eligible.
Only two materials are allowed in the construction: Elmer's yellow wood glue and wooden Popsicle sticks. Bridges cannot be painted or coated with any materials. The maximum number of sticks is 200, but the lightest bridge holding the maximum load with minimum deflection will win. For more information and requirements, as well as other EWeek events, visit www.indiana-eweek.org.
Filed under: K-12 Education News
Tags: Architectural, Bridge building, Competitions for Students, Contest