Posted on
December 12th, 2010
by ASEE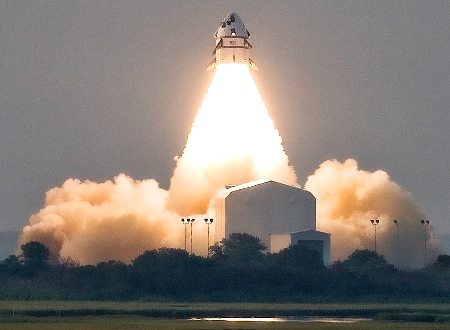 Max Launch Abort System (MLAS) lifts off from Wallops Island (NASA Image)
Clearly, Abby Ardis is an exceptional student. Still, the path taken by this senior at Snow Hill High School in Salisbury, Md. shows where an early interest in engineering and science can lead.
As reported by the Salisbury Times, Ardis has twice interned at NASA's Wallops Island research facility on Virginia's Eastern Shore. There, she worked with a computer hardware engineer in the orbital sciences department on a mission involving the Taurus 2 rocket, which is meant to refuel the International Space Station. One of her career interests is computer engineering, especially small technologies such as notebooks and smartphones.
Another interest is bio-engineering. Ardis performed an independent study in Chemistry last year, and attended  a bio-engineering conference where she heard a presentation on growing organs using organic scaffolds and stem cells. In her little downtime, she said she likes reading the classics — Tolstoy, Hemingway, and Steinbeck are favorites.
Filed under: K-12 Education News
Tags: Biomolecular Engineering, Chemistry, Computer Engineering, Computer Science, NASA, Programs for Students