Posted on
January 1st, 2016
by Mary Lord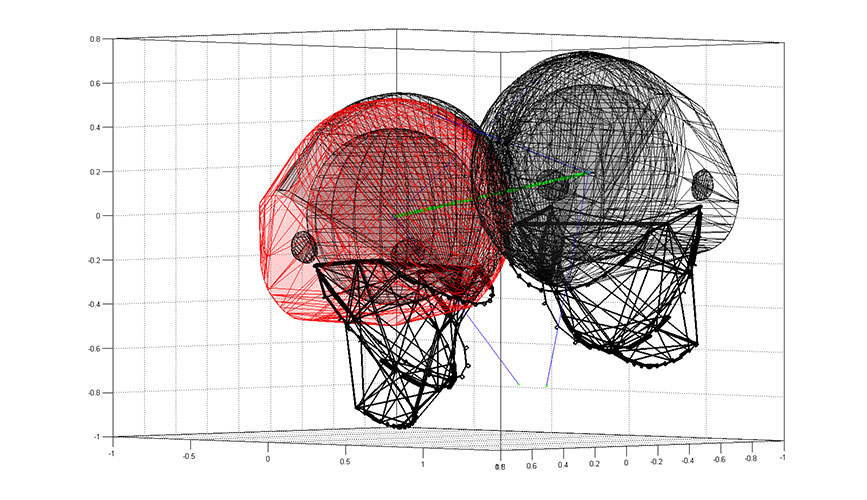 In the movie Concussion, Will Smith plays a Pittsburgh pathologist who uncovered a link between repeated concussions and brain damage in professional football players, then fought a lonely battle against the NFL's efforts to suppress his work. See official trailer.
Research on chronic traumatic encephalopathy (CTE) since that 2002 diagnosis has produced a body of evidence about the dangers of repeated blows to the head. Investigators at the Veterans Affairs Administration and Boston University examining the brains of deceased pro football players recently announced that 87 of the 91 brains tested positive for the Alzheimer's-like degenerative disease. In the past five years, there have been 39 changes to NFL rules to promote player health and safety, reducing concussions by 35 percent since 2012. Schools and pro leagues alike have instituted concussion protocols and sideline spotters, and the NFL has invested millions of dollars in research and technology. The federal Centers for Disease Control and Prevention even launched a Heads Up to Brain Injury campaign to keep parents, coaches, and student athletes informed.
Still, safety can be a tough sell in a bruising sport like football. Earlier this season, Rams quarterback Case Keenum was allowed to stay in the game despite showing signs of being dazed after his head smashed the turf in a tackle, touching off an outcry. The league responded with plans to discipline teams that failed to follow medical protocol.
Engineers can't change behavior. But they can make sports safer to play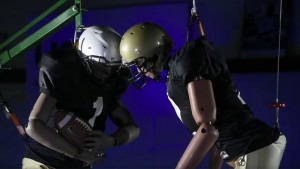 Engineering researchers are working to improve helmets. Dean Sicking, a professor of engineering at the University of Alabama, Birmingham, who revolutionized safety in auto racing, is tackling football helmets in an effort to reduce brain injuries at every level of the sport. His goal: reduce concussions by 75 percent not only by using new materials but also by changing the way football helmets are tested. Instead of linear models of force and motion, Sicking's lab studies the impact on players' heads using crash-test dummies that mimic the way human bodies collide on the gridiron.
Watch a video of Sicking's crash-dummy helmet tests.
At the University of Michigan, mechanical engineering professors Ellen Arruda and Michael Touless have developed a shock-absorbing material called Mitigatium that dissipates energy from repeated hits to a prototype helmet,  including side blows, which current models cannot do.
Helmets aren't the only gear getting an engineering makeover. Engineers at Carnegie Mellon University are working on sensor-studded footballs and other equipment to learn about forces on players.
University of Virginia biomechanical engineers Jeff Crandall and Richard Kent discovered that the majority of elite football players were wearing cleats that didn't fit properly. It turns out that the inside dimensions of football shoes don't necessarily comply with stated shoe size, and can vary greatly depending on the model and manufacturer. Their solution: a new shoe-sizing device that helps equipment managers and players identify shoes that precisely match the dimensions of a player's feet. By wearing properly sized shoes, players can enhance performance and perhaps help reduce foot and lower-leg injuries.
At Dartmouth College in Hanover, N.H., head football coach Eugene Teevens teamed up

with students in the Engineering Design Methodology course to develop an automated tackling dummy to reduce injuries. The Mobile Tackling Target, which received a provisional patent, is a padded foam form perched on a ball-like, omni-wheeled base that simulates the size, weight, and agility of a real football player. "We created it to eliminate player-on-player contact during tackling drills, while maintaining the level of challenge associated with a real live person," explained master's student Elliot Kastner.
Then there are the engineers in the end zone: engineering students who also play football. Carnegie Mellon University's 2013 starting punter Thomas Healy, a mechanical engineering graduate student, was inspired by the game to research helmet safety. Louisiana State University mechanical engineering senior Tommy LeBeau managed to balance his studies with gridiron drills during the 2015 season, as did Georgia Tech left guard Trey Braun, a mechanical engineering student with a 4.0 GPA. And in addition to its top-tier engineering program, MIT also has a strong football team. Its name? The Engineers!
Filed under: Special Features
Tags: concussions, Dartmouth, engineering research, Football, helmet, Safety engineering, Sports, STEM education, tackle dummy, University of Alabama