Posted on
June 25th, 2012
by Mary Lord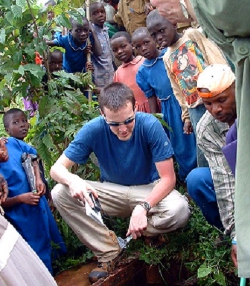 Turn on the tap. If safe, clean drinking water flows, thank the teams of engineers who design, maintain, and upgrade the complex systems of pipes, reservoirs, and mechanical parts that deliver life's most vital fluid to homes and businesses. Indeed, engineering is all about identifying and solving society's urgent problems, from unsnarling traffic to disaster relief to food security.
The Science360 Knowledge Network, sponsored by the National Science Foundation, illuminates the latest wonders of science, technology, engineering, and math – including how engineers are "making a difference" – in videos gathered from colleges and universities, science and engineering centers, the NSF and more. Each video is embeddable so teachers can put them their personal websites, blogs, and social networking pages.
"Engineering a Difference" won a Silver Telly, the video competition's highest honor, in the social responsibility category of the 2012 Telly Awards. This feature (31 minutes) on the water projects, bridges, and other work that teams of Engineering Without Borders students and professionals have done in rural Africa is sure to inspire!
Filed under: Web Resources
Tags: Engineering a Difference, Engineers Without Borders, Internet Resources, National Science Foundation, Science360 Knowledge Network, STEM videos, Videos, Web Resources