Posted on
April 7th, 2011
by axb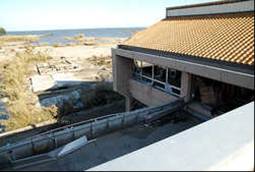 Nakahama Elementary School stands by the sea in Yamamoto, Miyagi Prefecture, in this March 18 photo. (Mainichi)
YAMAMOTO, Miyagi — An elementary school principal's quick thinking saved his students' lives here after March 11's colossal tsunami hit their school building.
Takeshi Inoue, 53, principal of the Nakahama Elementary School, led his students to the roof of the school building shortly after the Great East Japan Earthquake hit the region.
"We won't make it if we walk to a designated evacuation site," Inoue thought, and his swift decision saved the lives of all 52 students at the school, located only 200 meters from the coast. Many houses nearby were swept away by the tsunami, taking the lives of many residents, and the school building is surrounded by rubble.
Inoue had faith in the tsunami-proof schoolhouse, which has many windows and doors that are meant to redirect the power of a tsunami out of the building. Though the students were supposed to be evacuated to Sakamoto Junior High School up on a hill under the town's tsunami evacuation plan, many of the residents who headed to the school on foot were engulfed by the wave.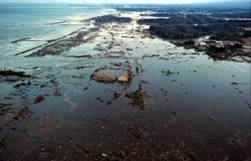 When Inoue heard the alert that a major tsunami would hit the area in just 10 minutes, he had no time to consult with the municipal board of education. He immediately called the first- and second-graders who were playing outside into the school before guiding a total of 90 people — students, teachers and residents — onto the top of the two-story school building.
The school stands on a three-meter-high mound, making its rooftop more than 10 meters above sea level. The building's narrowest side faces the coastline, so the structure can avoid being hit by the full brunt of the waves.
After the second surge of the tsunami splashed the rooftop, the third surge — even higher than the previous two — had threatened to swamp the rooftop before the waters finally began to pull back.
Students, clad in anti-disaster hoods, remained calm during the ordeal just as they were instructed to during past tsunami drills.
Mainichi Daily News (Japan) March 30, 2011
Filed under: K-12 Education News
Tags: Elementary Education, Events