Posted on
November 2nd, 2010
by Jaimie Schock

The contest has ended!
Without further adieu, the winner of the first ever eGFI contest is science teacher and doctorate student Kevin Anderson, whose idea has students learning how the different engineering disciplines can tackle real-world challenges and generally make life better. His idea is currently being turned into a class activity, which will be released soon. We hope he enjoys his $50 Amazon.com gift card. Congrats, Kevin!
CONTEST – WIN a $50 Amazon Gift Card
Innovative Ways to Use eGFI Engineering Cards in Classrooms
eGFI has come out with packs of 16 colorful cards explaining the engineering disciplines, including a teacher guide with ways to use the cards in the classroom. We know that there have got to be more ways to use them, though, so we want to hear from you.
Take a look at the front and back of one of the cards we've provided (click images to enlarge). How would YOU use them in a classroom activity? What could be done to further engage students? What games could be constructed?
Propose your original ideas, and we'll pick the most creative and well-thought-out one. The winner will receive a $50 gift card from Amazon.com via email, and have his or her name posted (optional) on our website and social networking outlets, along with the winning idea! The contest runs Nov. 2 – Nov. 16, 2010… it has been EXTENDED to Nov. 23, 2010!

Comment with your ideas here or email them, along with any questions, to: Jaimie Schock at j.schock@asee.org.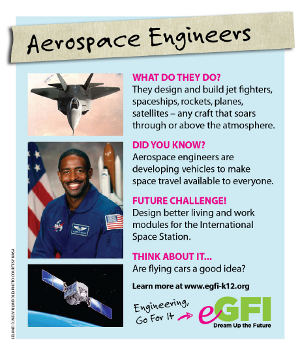 Some ideas we've already come up with:
Some 10-20 minute activities…
Distribute multiple packs of the cards to the class, with each card shared by a group of 2-3 students:
1. Discuss what the card tells you about this discipline. What are its key aspects?
2. Debate the "Think About It" question. How many different answers can you come up with?
3. Design an advertising campaign to convince the class your discipline is the best! List three reasons why and develop a catchy slogan.
OR, ask your students…
1. How many inventions?
List the different specialties illustrated or described on a card. How does each relate to this field of engineering? Which are current inventions and which are designs for the future?
2. What three engineering fields most attract you?
Explain why they seem important or appealing. Name the skills and sorts of knowledge each would require.
(See the cards for the full list of published ideas!)
That's some of what we came up with. Now, it's your turn. How would you use them?
Filed under: For Teachers, K-12 Outreach Programs
Tags: Class Activities, Contest, Contests, Curriculum, STEM education