Posted on
November 8th, 2010
by Jaimie Schock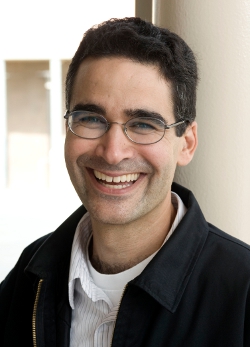 When engineering teacher Amir Abo-Shaeer was told he was one of 23 people to win a $500,000 "Genius" award this year from the MacArthur Foundation, he was more than a little surprised. MacArthur nominators are all anonymous, and at some point, one of them must have met him and become impressed.
Though Abo-Shaeer says the award was pure luck, it's not hard to see why he was chosen. For starters, he established an engineering academy at his Goleta, Calif. school, Dos Pueblos High. After a long process, he secured a $3 million grant to build a new facility to support it, and he is now raising another $3 million through his non-profit Dos Pueblos Engineering Academy Foundation. Workers broke ground on it in January.
Abo-Shaeer is not given to boasting, but he's happy to explain how others can replicate some of his achievements. And, he says, his methods of recruiting, teaching, and engaging students are all things any STEM teacher could achieve, even those who are short on funding.
He wants to dispel the myth that engineering has to be cold and analytical. Next year, when he introduces the new curriculum he developed for the opening of the new 12,000-square-foot facility, it will be "heavily infused" with art in order to "encourage students who are more creative and artistic to consider engineering."
Perhaps Abo-Shaeer's most impressive feat has been raising the number of 9th grade girls in his engineering classes from around two per class to 50 percent.  He started by drawing upon some female students in higher grades to give talks about how, despite what society says, girls at Dos Pueblos could "buck the trend" and study engineering.
In his classes, which have almost no attrition, Abo-Shaeer makes certain that girls have equal opportunities to do hands-on projects. He also wants to make sure they learn to use tools as proficiently as do boys, who may have more experience outside of the classroom. In addition, he ensures that the class setting is safe emotionally and that girls — or any student for that matter — won't be ridiculed if they don't get it right the first time.
He says that his female students will likely have an equal or better shot at continuing with engineering after high school. But "corporate culture needs to change," he says, before female engineers will be as welcome and comfortable in industry.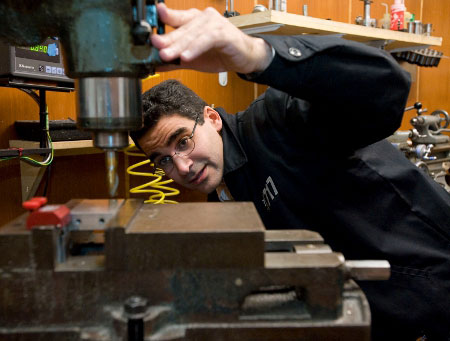 Abo-Shaeer at Work (Images from the MacArthur Foundation)
One way to begin the process is to prepare students for careers while they're still in high school. Students work in the classroom, but also after school with Abo-Shaeer's non-profit as though they are already in a business. They handle public relations, manage the budget, make presentations, run the website, and raise money, in addition to staying sometimes until midnight working on robots.
Abo-Shaeer says it's essential that lessons be tied to what students will actually be doing, as they often wonder how abstract subjects can possibly be useful when they get out into the world. Equally as important is making sure that not everything taught can be just as easily found in a web search. Teachers must give more than that, he says, dubbing his approach "experience-based learning." Hands-on activities and skill-learning are vital.
And teachers don't have to be rolling in dough to accomplish any of this. "You can do a lot with a little bit of money," Abo-Shaeer says, who encourages teachers to look to local businesses for extra cash. Chances are, companies will be especially interested in funding projects that relate to their specific industry field. Finally, the internet has many free class activities and lesson plans, he says, that don't require a big school budget to accomplish.
As for the $500,000, to be paid out over five years? Abo-Shaeer has no idea what he's going to do with it yet, but he doesn't see a yacht or anything opulent in his future. He says the award's true purpose — the "spirit" of it — is to enhance the creativity of the recipient, so he'll likely find a innovative use for it.
More broadly, he hopes others get a sense from the award that "there are people out there that believe in public education," and who don't just focus on the negatives. He sees the award as "a clear opportunity for public educators," and hopes to use it to help spread his ideas about engineering education and reaching students.
Read more about Abo-Shaeer winning the MacArthur Genius Award in this eGFI News article.
Filed under: Special Features
Tags: Engineering, Girls Education, Teacher Awards, Teachers