Posted on
April 16th, 2013
by Mary Lord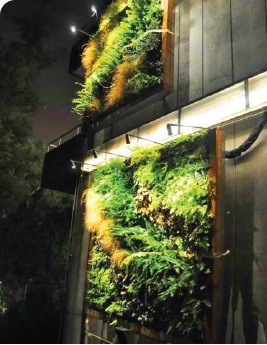 Have you ever given any thought to those bare, exterior walls of your home or school?  If so, you would be current with the latest design trends in civil and environmental engineering: Redesigning buildings to take full advantage of solar energy, sustainable materials, and other eco-friendly features.
The idea behind green walls, or vertical gardens, can be traced back to the Hanging Gardens of Babylon.  In Babylon, plants were said to have been cultivated at a height above ground level.  In modern times, the idea of similar gardens has become a way to bring more greenery to cityscapes while also making urban areas more environmentally friendly.  A new project at the University of Washington's College of Built Environments aims to "show the capacity of building skins to ecologically contribute to the urban environment."
This innovative movement in architecture gives "driven up-the-wall" new meaning while combining environment awareness with exterior design.
Called the Biodiversity Green Wall, Edible Green Screen and Water Harvesting Demonstration Project, the $86,000 effort was the brainchild of Nancy Rottle, an associate professor of landscape architecture.  The idea, she says, is to discover just how effective green walls and screens can be to "promote biodiversity, produce food, and reduce energy use."
The project's two 10-foot-by-10-foot green walls are home to more than 500 plants from 23 species, growing on a permeable fabric attached to an aluminum frame.  The screen is essentially a giant trellis on which hops and kiwi vines, grown from the ground, attach themselves.  Two 750-gallon cisterns hold harvested roof water for irrigation.  Students monitor such things as plant growth rates, effects on building and local air temperatures, and water use.  So it's a wall-to-wall learning experience, too.
As cities grow, there are fewer trees and plants to help cool the air.  Green walls help reduce a building's heating while saving energy by acting as a shade barrier.  Since the walls of most buildings are made of asphalt and concrete, these buildings absorb higher levels of heat from the sun.   Plants on a green wall act as a barrier that prevents the walls from absorbing sunlight and reflecting it as heat energy.
The thought of the biodiversity project at the University of Washington as a vertical sustainability model is promising.  "This work will potentially show the capacity of building skins to ecologically contribute to the urban environment," said Rottle.  "We want to use the project as a billboard for new sustainable practices.  By harvesting water to irrigate the green wall, the project will reduce potable consumption and may lessen storm water impacts."
Here's a video from the University of Washington's Green Features Lab that explains the Biodiversity Green Wall concept:
[youtube]http://www.youtube.com/watch?v=VjjwbinMTGk[/youtube]
If additional funding is secured, Rottle and her team will install solar panels, aiming to harvest enough energy to offset 100 percent of costs associated with the irrigation pump and electrical requirements of the project.
Adapted from a January 2013 Prism article by correspondent Thomas K. Grose
Filed under: Special Features
Tags: Architecture, Biodiversity Green Wall, building, Edible Green Screen, Environmental Engineering, Green, Sustainability, University of Washington