Posted on
August 7th, 2012
by Mary Lord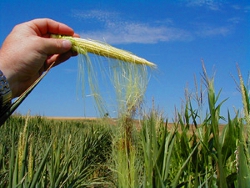 As one of the worst droughts in decades continues to shrivel reservoirs and sear fields, the U.S. Department of Agriculture has designated more than half of all counties – 1,584 in 32 states – primary disaster areas this growing season. The first week of August found nearly half of the nation's corn crop, a major export, rated poor to very poor. About 37 percent of U.S. soybeans fell into that category, according to the USDA's National Agricultural Statistics Service, while nearly three-quarters of U.S. cattle acreage occupies areas affected by the drought.
If the dry, hot spell has decimated agriculture, it also has strained the steel, asphalt, and other engineered parts of the nation's infrastructure. Water levels in the Mississippi River, which carries 60 percent of America's grain and a large share of its oil and gas, have dropped so far that barges must carry less cargo and forced nearly round-the-clock dredging by the Army Corps of Engineers to keep traffic from running aground. In Washington, D.C., a jet got stuck in asphalt softened by 100-degree temperatures while a subway train derailed after the heat kinked the track. And in East Texas, the New York Times reported, high temperatures and drought have shrunk the clay-rich soils under highways, causing "horrendous cracking," said Tom Scullion, senior research engineer with the Texas Transportation Institute at Texas A&M University. Some experts predict climate change could result in dramatic failures of highway systems.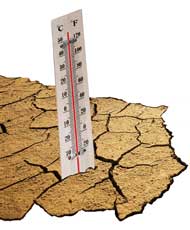 Heat waves also are changing America's electricity use. With peak demand rising higher than ever before, so does the need to invest in generating stations and transmission lines. Extreme weather also has challenged engineers to develop adaptations, from resizing drainage culverts damaged by Hurricane Irene in Vermont to slowing trains in the nation's capital when the mercury soars.
No matter how much engineers improve on the design of current systems or develop solutions for new drought-related problems, however, none can control the weather. Yet.
Filed under: Special Features
Tags: Agricultural Engineering, Army Corps of Engineers, barge, buckling, Civil Engineering, corn, crops, Department of Agriculture, drought, highway, hydrology, infrastructure, Mississippi River, Weather