Posted on
February 3rd, 2017
by Mary Lord

Think engineering is all about crunching numbers and about as exciting as watching paint dry? DREAM BIG: Engineering Our World, a new 3-D IMAX movie from MacGillivray Freeman Films, promises to challenge those perceptions … big time.
Presented in partnership with the American Society of Civil Engineers and Bechtel Corporation, the film not only reveals the ingenuity behind some of the world's most iconic engineering marvels, but also the inherent beauty of the structures. In the process, it illuminates the passion, grit, and humanity that drives engineers to tackle life's great challenges – from building a much-needed village bridge to the International Space Station.
DREAM BIG, which opens on giant-screen theaters around the country at the start of Engineers Week on February 17, examines how engineers have changed both everyday lives and entire societies. Narrated by Academy Award winning actor Jeff Bridges, the film sweeps from Rome's ancient arches and the Great Wall of China to roller coasters, underwater robots, and wind-defying skyscrapers – upending stereotypes of who becomes an engineer in the process.
"For the past two decades, people have been itching for a popular film about STEM," says director Greg MacGillivray, who spent three years filming  this massive undertaking. "Teachers, museums and parents are looking for ways to get kids not just exposed to but also really turned o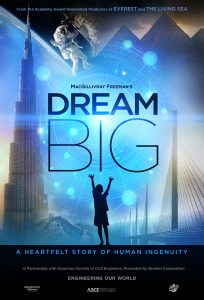 n by science and engineering. So we wanted to see if we could bring something new to that effort with an entertaining, visually spectacular film full of stirring human stories, one that energizes kids of all kinds, including girls and minorities, to think about engineering as something that might be an exciting thing to do with their lives and their way to make a mark on the world."
Teachers can reinforce the viewing experience with 10 hands-on activities that were developed especially for the film. Two of them – Windy City Tower and Earthquake-Resistant Structure – are actually performed in the film. Film partner DiscoverE has 30 more activities designed to encourage kids to "Dream Big," the theme for Engineers Week 2017.
Find a theater near you!
Filed under: K-12 Outreach Programs, Special Features, Web Resources
Tags: ASCE, DiscoverE, Dream Big engineering, Engineers Week 2017, Events, IMAX, movie, STEM, STEM education, Teacher Resources