Posted on
September 27th, 2017
by Mary Lord
Hurricanes, tornadoes, and other destructive weather events offer timely "teachable moments" about the role of engineers in improving forecasts and reducing the toll from natural disasters.
Engineers design sturdier buildings and shore up coastlines.  They operate drones – like the unmanned aerial vehicles in the above video deployed by Texas A&M researchers during Hurricane Harvey – that measure wind speeds and survey damage. Some create sophisticated software systems that allow aircraft to safely land and take off as deadly storms approach. Others are on the front lines, helping to pull stranded people from rushing floodwaters, erecting emergency shelters and water supply systems, and guiding search and rescue robots. Still others are instrumental to revising building codes and helping to rebuild devastated communities. NASA's damage maps, for instance, aided emergency response in Puerto Rico after Hurricane Maria knocked out power and stranded families island-wide.
We've collected activities and features from eGFI Teachers newsletters and ASEE's Prism magazine to help you integrate engineering into your STEM classrooms – and inspire the next generation of "crisis engineers."
Newsletters
The following newsletters contain activities and articles on natural or man-made disasters and engineering:
Activities     
Multiple grades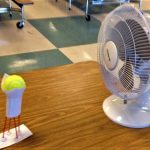 Building for Hurricanes [Grades K-12] [Engineering design, Civil and Structural Engineering, Forces, Physics]
In this engineering design challenge about building in hurricane-prone regions, students learn that a solid base helps stabilize a structure by constructing, testing, and redesigning a tower that can support a tennis ball at least 18 inches off the ground while withstanding the wind from a fan.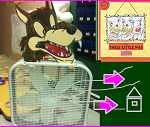 Three Little Pigs Design Challenge [Grades PreK-5 but suitable for all grade levels] [Engineering Design, Civil and Structural Engineering, Physics, Forces]
Teams of students act as civil engineers to design and build a house with limted materials and time that can withstand the huffing and puffing of the big bad wolf.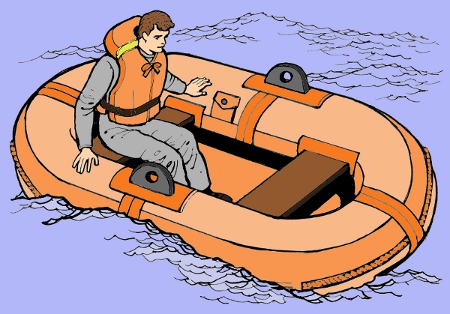 Shipwreck Survival [Grades 4-10] [Engineering Design]
Working in small teams, students design, build and test solutions to survive on a deserted island.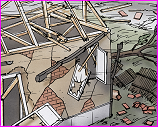 Disaster-proof Housing [Grades 5-11] [Engineering Design, Civil and Structural Engineering, Forces]
In this activity for middle school science, high school physics, or engineering courses, groups of students explore the housing crisis caused by natural disasters by applying appropriate technology and fluid mechanics to design sustainable shelters that can withstand flooding and high winds.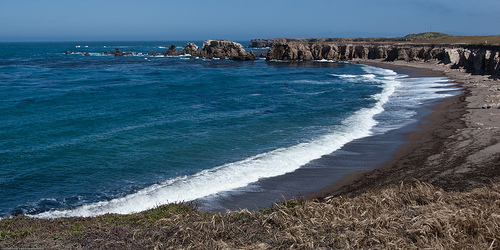 Prevent Soil Erosion [Grades 5-12] [Civil and Environmental Engineering, Engineering Design, Waves, Forces, Erosion,]
Students design a seawall to protect a major coastal highway from erosion by ocean waves and address these questions: Erosion–can you fight it? How much energy is involved with waves and erosion? Can humans stop shoreline erosion? Should we?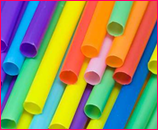 Build an Earthquake-proof Structure [Grades 6-12] [Engineering Design, Civil and Structural Engineering, Materials, Forces]
Students are challenged to build a drinking straw tower that can withstand simulated earthquake vibrations and increasing weight and pressure. Doing so, they learn basic principles of design and earthquake engineering while practicing team skills.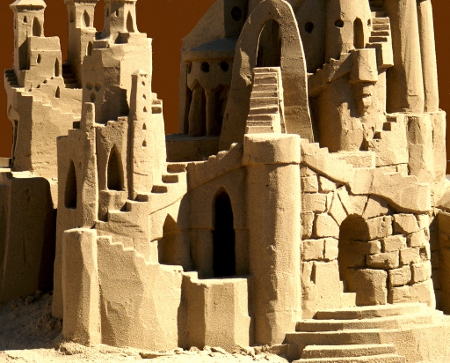 Sand & Water [Grades 3-8] [Earth Science, Environmental Engineering, Engineering Design, Coastal Erosion]
Students learn about cohesive and adhesive forces and the engineering design process by building sandcastles using wet sand
Save Our Shore! [Grades 3-8] [Earth Science, Environmental and Civil Engineering, Engineering Design, Coastal Erosion]
Students study beach erosion and then apply the engineering design process to devise ways to protect coastlines that take public concerns into account.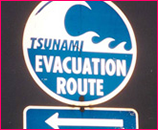 Tsunami Survival [Grades 3-8] [Civil and Structural Engineering, Fluid Dynamics, Forces, Materials, Architecture, Engineering Design]
Students use a table-top tsunami generator to observe the devastation of these huge waves. They make villages of model buildings to test how different material types are impacted and learn how engineers design buildings to survive tsunamis.
Elementary School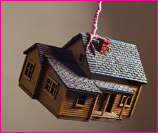 Design a Tornado-proof Building [Grades 3-5] [Earth Science, Engineering Design, Civil and Structural Engineering]
Teams of students use their knowledge of tornadoes and damage to design a structure that will withstand wind and protect people from twisters. Each group will create a poster with the name of their engineering firm and a picture of their structure, then present their design to the class.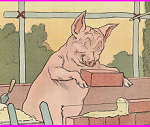 Engineering for the Three Little Pigs [Grades P-5] [Earth Science, Engineering Design, Materials, Civil and Structural Engineering]              
Students learn about the importance of using the right materials for the job by building three different sand castles and testing them for strength and resistance to weathering. They then discuss how the buildings are different and what engineers need to think about when using rocks, soils, and minerals for construction. Includes links to an NGSS-based Three Little Pigs design challenge suitable for PreK-5 students that uses straw and other materials and involves testing with a hairdryer.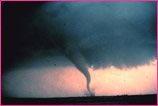 Save Our City [Grades 3-5] [Weather, Civil and Environmental Engineering, Engineering Design]
Students learn about various natural hazards and specific methods engineers use to prevent these hazards from becoming natural disasters. They study a hypothetical map of an area covered with natural hazards and decide where to place natural disaster prevention devices by applying their critical thinking skills and an understanding of the causes of natural disasters.
Where's Our Water? [Grades 3-5] [Environmental engineering; Engineering Design; Water Cycle; Earth Science]
In this scenario-based activity, students design ways to either clean a water source or find a new water source, depending on given hypothetical family scenarios. They act as engineers to draw and write about what they could do to provide water to a community facing a water crisis. They learn basic steps of the engineering design process.
Middle School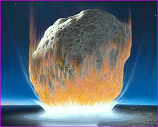 Asteroid Impact! [Grades 6-8] [Earth Science, Engineering Design]
In this first of eight activities, students learn about the engineering design process and earth science by beginning to design an underground cavern that can shelter people for one year after an asteroid strike makes Earth uninhabitable.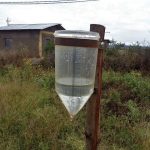 Backyard Weather Station [Grades 6-8] [Weather, Earth Science, Citizen Science]
Working in groups of 8, students use their senses to describe and predict the weather, then act as state park engineers and design/build "backyard weather stations" to gather data to make actual weather forecasts.
 The Great Wave [Grades 6-8] [Environmental and Civil Engineering; Tsunami; Fluid Dynamics; Forces and Motion; Physics] 
Students in grades 6-8 learn what causes a tsunami, the physics behind its movement, and how scientists know when one is forming. They study its impact on a model town and learn about a 10-year-old girl credited with saving dozens of lives when a tsunami struck Samoa.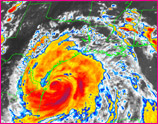 Weather Forecasting [Grades 6-8] [Earth and Space Science and Technology]
Hurricane season is here, reminding us that accurate weather forecasts can be a matter of life and death in vulnerable coastal areas of the country. Even inland, severe thunderstorms play havoc with late-summer travel, and tornadoes threaten lives and property. In this lesson for grades 6 to 8, students begin by considering how weather forecasting plays an important part in their daily lives. They learn about the history of weather forecasting — from old weather proverbs to modern forecasting equipment — and how improvements in weather technology have saved lives by providing advance warning of natural disasters.
High School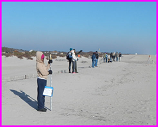 Who Moved the Beach? [Grades 9-12] [Environmental Science and Engineering, Civil and Structural Engineering, Earth Science, Weather, Data]
High school students working in groups of three to four learn about the primary causes and impacts of coastal erosion, and use elevation data to construct profiles of a beach over time or to compare several beaches, make inferences about the erosion process, and discuss how humans should respond.

Features
When Haiti suffered a devastating earthquake in 2010, Notre Dame engineering researchers created an online system that let students review hundreds of photos and reliably classify the structural damage. The effort is just one example of how "citizen engineers" and "citizen scientists" are advancing research in areas from astronomy to air pollution to penguins. Even snowflakes!
Crowd-sourcing Coastal Resilience 
Hurricane Sandy's devastating floods exposed the need to re-engineer coastal communities for resilience and sparked a novel method to generate innovative design solutions: Crowd-sourcing. The six competition winners are now putting their ideas into practice.
Elementary School Principal Saves Students from Tsunami 
A Japanese elementary school principal's quick thinking saved his students' lives after March 11's colossal tsunami hit their school building. He immediately called the first- and second-graders who were playing outside into the school before guiding a total of 90 people — students, teachers and residents — onto the top of the two-story school building.
ASEE Prism magazine article from 2010 explores the work of "crisis engineers," who bring needed skills and order to disaster zones, easing victims' plight with water, shelter, and sanitation systems.
Nehemiah J. Mabry, a structural engineer, educator, and entrepreneur from North Carolina, took home a grand prize in the National Academy of Engineering's Engineering for You (E4U) video contest with an on-screen recitation of his slam poem, "Future Cities with Intelligent Infrastructure."
From buildings that sway rather than collapse to tsunami seawalls and drills, Japan's earthquake precautions have made the nation uniquely prepared for disaster. Learn how Japanese construct skyscrapers and other earthquake-resistant engineering in this New York Times feature. Such practices undoubtedly helped save lives, though the toll from last week's temblor and giant wave continues to mount.
If safe, clean drinking water flows from your tap, thank the teams of engineers who design, maintain, and upgrade the complex systems that deliver life's most vital fluid. Indeed, engineering is all about identifying and solving society's urgent problems–as your students will see in "Engineering a Difference," an award-winning video series sponsored by the National Science Foundation.
In the decade since the September 11 attacks, engineers have been involved in helping the nation recover, from improving security to designing memorials and soaring new structures to rise over the rubble at Ground Zero. Here's a sampler for learning more about engineering's role, including past features from ASEE's PRISM magazine.
Engineering Students to the Rescue
Earthquake-shattered Haiti is a world apart from America's grassy college campuses. Yet for a growing number of U.S. engineering undergraduates, the country serves as a living classroom where they can apply their knowledge and skills to help real people – half a million of whom still live under tarps or tents – recover from the worst natural disaster in modern times.
Engineering Students win Shelter Design Contest
Few senior design projects ever go further than the classroom. Not so for four Calvin College civil and environmental engineering students. Their capstone project – a disastershelter – took top honors in a national contest.
Like many New Jersey shore communities, Gandy's Beach was devastated by Hurricane Sandy in 2012. The solution? Engage schools in a real-world restoration project: building a living breakwater from bags of old shells to protect both oyster beds and shorelines from future storm damage.
They got out of cars, climbed stairs, opened doors – and fell. But the mechanical humans that went through their paces in the Defense Advanced Research Project Agency's Robotics Challenge in June showed that they could assist in disasters.
A Robot that can Swim Through Sand
By studying lizards, a team of Georgia Institute of Technology researchers has created a snake-like robot that can move through sand.  They hope the technology will lead to advanced landmine detection systems, better earthquake monitoring, or sub-surface discoveries on other planets.
ASEE Prism Articles
Storm Riders (Nov. 2004) Stephen Budiansky's look at how a series of hurricanes gave coastal and civil engineering educators in Florida an up-close, personal research opportunity to put theory into practice.
Send in the Engineers (April 2005) Thomas K. Grose writes about the engineering researchers who sprang into action to study the deadly tsunami that devastated coastal communities in 11 countries following the massive earthquake off the coast of Indonesia on December 26, 2004.
Down But Not Out (Nov. 2005) Thomas K. Grose, Mary Lord, and Lynn Shallcross explore how Tulane, the University of New Orleans, and other Gulf Coast engineering schools weathered and recovered from Hurricane Katrina. Issue included an reflections on Katrina by Marybeth Lima, then an associate professor of biological and agricultural engineering at Louisiana State University.
Shaky Ground (April 2006) Pierre-Home Douglas's profile of University of Hawaii, Manoa, civil and environmental engineering professor Peter Nicholson, who led a team of engineers from industry and academia to comb through the post-Katrina rubble looking for clues on how to improve safety and rebuild New Orleans.
When Disaster Strikes (Nov. 2008) Mary Lord describes the beefed up emergency preparedness measures two Katrina-ravaged engineering schools instituted.  The issue included When Disaster Strikes, Peggy Loftus's study of the valuable design lessons that engineering schools learned from Katrina and the subsequent recovery efforts.
Crisis Engineers (Sept. 2009) Thomas K. Grose reports on the skills and order that engineers bring to disaster zones, easing victims' plight with water, shelter, and sanitation systems.
Time and Tide (Nov. 2009) David Zax examines what engineering researchers are doing to fortify cities and coasts from rising sea levels.
Learning from Disaster (April 2012) Lucille Craft profiles mechanical engineer Yotaro Hatamura, Japan's go-to scholar of accidents, who investigated what went wrong at the Fukushima nuclear power plant meltdown.
Off-Campus Crusaders (March 2016) Cover story on engineering academics who respond to crises, investigate disasters, and challenge authority includes a profile of retired Berkeley forensic civil engineer Robert Bea and his successful effort to fault the Army Corps of Engineers and their levees for Hurricane Katrina's widespread devastation.
More Than Talk (January 2017) Prism editor Mark Matthews and Associate Editor Jennifer Pocock examine how academic engineers from multiple disciplines are responding with characteristic curiosity and can-do pragmatism to measure and, where possible, mitigate the effects of drought, tornadoes, and other extreme weather.
Additional educational resources    
Weather and Climate education.  Interactive water-cycle games, videos, and other teaching resources from NASA's Precipitation Measurement Missions.
Extreme Weather News. The latest on hurricane tracks, rainfall amounts, and other storm news from NASA's Precipitation Measurement Missions.
NASA's Hurricanes and Tropical Storms webpage. Thermal images, videos, and more.
NASA's Rescue 406. The space agency's free game app lets players use information from satellites orbiting high above Earth to direct rescue efforts in an emergency. You'll need to be quick to keep up with an increasing number of people in trouble!
last updated 9/29/17  Photo of Puerto Rican families stranded by Hurricane Maria from U.S. Customs and Border Patrol.
Filed under: Class Activities, Grades 6-8, Grades 6-8, Grades 9-12, Grades 9-12, Grades K-5, Grades K-5, Lesson Plans, Special Features
Tags: Army Corps of Engineers, build, building, Class Activities, data, Disaster relief, drought, Engineering, Environmental Engineering, erosion, forces, hurricane, Hurricane Maria, measure, Mining, motion, National Guard, natural disasters, Physics, rescue, storm, Structural Engineering, Teacher Resources, Technology, tornado, Weather, Web Resources