Posted on
April 5th, 2010
by Jaimie Schock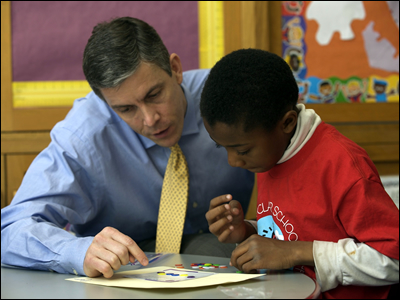 U.S. Secretary of Education Arne Duncan, above left, announced March 29 that Delaware and Tennessee had won the first round of grants in the $4 billion Race to the Top Fund competition, supported by economic stimulus aid. With Delaware receiving $100 million, and $500 million going to Tennessee, $3.4 billion is left for states competing in the second round.
The two states triumphed over 14 other finalists. Coming in third, Georgia lost by just over 10 points, with Florida, Illinois, and South Carolina making up the rest of the top six. Forty states and the District of Columbia applied in round one of the federal competition. Some states did not apply, including Texas, whose governor boycotted the competition.
The Race to the Top Fund provides competitive grants to encourage and reward states that are creating the necessary conditions for education innovation and reform. The competition uses six criteria for funding, including teacher effectiveness and quality, state standards and assessments, effectiveness of charter schools,  ability to turn around the lowest achieving schools, and data systems to support instruction. Race to the Top is part of a broader push by the Obama Administration to better fund and reform education.
Filed under: K-12 Education News
Tags: Competition, Education Policy, Grant Opportunities, Public Policy