Posted on
September 27th, 2010
by Jaimie Schock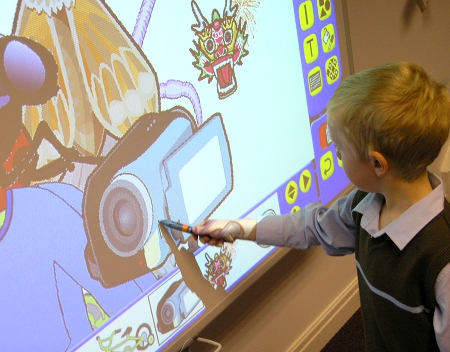 A Student Uses an Interactive Whiteboard
The debate over the efficacy of classroom technology continues to rage, but the onslaught of new devices rolls on and on. Jeff Young, who writes the College 2.0 blog for the Chronicle of Higher Education, recently highlighted some of the cutting-edge technologies that may soon be wending their way to American schools, via South Korea. He joined some 1,000 visitors at recent e-learning trade show in Seoul that drew primary and secondary school educators, as well as those from universities.
What was on display? Well, impossible to miss, he reports, were all the super-sized whiteboards., including one that was two stories tall. Not going to fit into too many classrooms, is it? Another board was infused with augmented reality technology. AR is considered the next big thing for cellphones — view something through the lens of a smartphone's camera, and content from the Internet is laid over it. But in this case, when AR is applied to the whiteboard, it takes live action from a camera and superimposes it over animation displayed on the screen. Young describes watching a teacher wave her hand in the air and seeing it appear on screen, seemingly reaching for a giant animated raindrop.
Finally, he mentions a robot with a screen in its tummy that displays lecture videos. One of its arms has a claw to grab things; the other is a working vacuum cleaner. The technology is captivating — but will it support better learning?
Filed under: K-12 Education News
Tags: Classroom Technology, Technology Education, Technology for Learning