Posted on
November 14th, 2012
by Mary Lord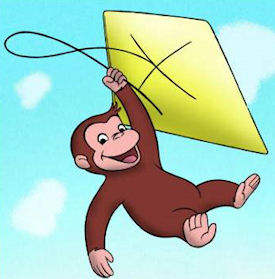 Learning from mistakes is part of the engineering design process. And few beloved characters have generated more teachable moments from boo-boos – and mischief – than Curious George.
Let the world's most beloved monkey help your youngsters explore engineering and science with this new family STEM activity booklet (PDF) from the WGBH team that produces the Curious George series on PBS and online.
Aimed at children in kindergarten and first grade, the booklet can be used as a handout for children to bring home and share with parents and siblings, or as the basis for volunteer interactions with K-1 classrooms. Kitchen engineering (pancakes), games, and more… Don't forget to wear your yellow hat!
Filed under: Web Resources
Tags: Curious George, Engineering Design, family activity booklet, kindergarten, PBS, STEM education