Posted on
November 21st, 2010
by ASEE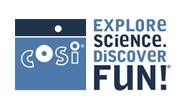 Dates: Various — see below. Cost: $34 or $44 per person, see below.
COSI Camp-In Programs
The Camp-In programs at COSI Columbus described as the "ultimate indoor camping experience for girls and boys," has taken environmental "Green" as its 2011 theme. Participants spend 19 hours immersed in all that COSI has to offer enhanced by themed workshops, an Extreme Screen film, and more.
Every overnight includes: a souvenir patch (Camp-In participants only), dinner (optional), hands-on activities related to a specific theme, time to explore the building's exhibition areas, exclusive access to the Adventure Exhibition Area, a late night snack, sleeping space, breakfast, and a film in COSI's Extreme Screen Theater.
Cost: $44 per person with dinner; $34 per person without dinner.
A typical overnight schedule:
Check-in from 5:00-6:30pm. Campers will store their gear, attend a brief welcome
show, and then are directed to dinner. The leaders and participants receive schedules
and maps at the welcome show.
Dinner from 5:30-7:30pm (pizza, carrots, cookies, granola bar, juice)
Hands-on workshop activities scheduled either in the evening (7:00-10:45) or morning (9:00-11:00)
Snack (chips, granola bar and drink) will be available from 9:30 – 11:30pm
Dancemania from 11:00-11:45pm (10:00-10:45 for Brownie Overnights)
Lights out at approx. 12:15am. (11:15pm for Brownie Overnights)
Lights on at 7:00am and Breakfast at 7:30am (cereal, muffin, fruit, juice, milk)
A scheduled show in the Extreme Screen Theater at 9:00, 10:00, or 11:00am.
The program ends at 12:00pm, but you are welcome to stay and explore COSI until
close at 5:00pm. (6:00pm on Sundays)
How long is an overnight? Check in begins at 5:00 pm that evening and the overnight continues until noon the following morning. A
For more information, please  can send email to explorationprograms@mail.cosi.org or call the Camp-In hotline at 614-228-2674.
Camp-In 2011 Program Dates
Registration begins July 1, 2010
Girls Night Program
Junior/Cadette Dates:
Saturday, January 22, 2011
Saturday, February 19, 2011
Saturday, March 5, 2011
Saturday, March 26, 2011
Friday, April 1, 2011
Saturday, April 2, 2011
Friday, April 8, 2011
Saturday, April 30, 2011
Brownie dates:
Friday, February 18, 2011
Saturday, April 9, 2011
Friday, May 6, 2011
Saturday, May 7, 2011
Boys Night Program
Friday, February 4, 2011
Saturday, April 16, 2011
Co-Ed/Family Night Program
Overnight Field Trips
Thursday, February 24, 2011
Thursday, March 10, 2011
Thursday, May 5, 2011
Boys or Girls Day Program
At the request of past group leaders, day program groups of the same gender will have workshops with only other campers of that gender.
Saturday, February 5, 2011
Saturday, February 19, 2011
Saturday, February 26, 2011
Saturday, March 5, 2011
Sunday, March 27, 2011
Sunday, April 10, 2011
Saturday, April 16, 2011
Saturday, April 30, 2011
Please see the Website for more information and to Register

Filed under: K-12 Outreach Programs
Tags: Environmental Engineering, Environmental science, Family events, Programs for Boys, Programs for Girls, Programs for Students, Science museum