Posted on
March 21st, 2013
by Mary Lord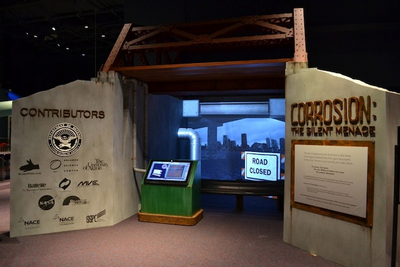 Corrosion is a big problem for America's bridges, ships, skyscrapers, pipes, and other metal structures. It's also a fascinating challenge for engineers and scientists.
Corrosion: The Silent Menace, a new exhibit at the Orlando Science Center in Florida, is designed to educate middle and high school students about the toll that oxidation can take on America's vital infrastructure. Sponsored by the Defense Department Corrosion Policy and Oversight Office, the University of Akron, NASA, and others, the exhibit uses a series of virtual experiences to explore what corrosion is, why it happens, how NASA protects against it in space, and how people can join in prevention efforts.
Features include:
3D Mapping: Through projection technology, visitors can visualize how corrosion affects infrastructure, including steel, pipes, and signage.
Cracking Under Stress: Test beam and truss shapes by applying weight and looking at them from polarized glass to see where they are most affected by stress and more likely to corrode.
The Case of the Cracked Crawler Shoes: Investigate real NASA artifacts and walk in the footsteps of a corrosion engineer to determine the cause of a corrosion incident.
Little Plates Reveal Big Secrets: Act as a corrosion scientist investigating samples of materials exposed in a corrosive environment to determine which materials and coatings provide the best protection from corrosion.
CorrSim Jr.: Take an interactive role in preventing corrosion by painting your bike and protecting it from the elements in this Kinect experience.
Careers in Corrosion: Hear from corrosion engineering professionals, who will offer a taste of their job experiences and what inspired them to address problems that ensure our safety.
Corrosion: The Silent Menace is sponsored by the DoD Corrosion Policy and Oversight Office, The University of Akron, NASA, and various partners.
Orlando's Science Park has a host of other interactive exhibits that let visitors explore lights and lasers; sound and waves; electricity and magnetism; fundamental forces; and simulation. There's even a 70-foot pinewood derby track where kids can race their friends.
Filed under: K-12 Outreach Programs, Special Features
Tags: Civil Engineering, corrosion, Exhibit, Orlando Science Center