Posted on
January 9th, 2010
by ASEE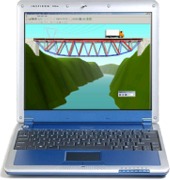 Contest registration opens 1:00 p.m. EST, Jan. 28, 2010, first qualifying round closes March 5. Level: students ages 13 through grades 12. Prizes: Prizes: $5,000 scholarship and notebook computers.
The United States Military Academy's
The purpose of the 3rd annual West Point Bridge Design Contest is to provide middle school and high school students with a realistic, engaging introduction to engineering. The contest is provided as a service to education–and as a tribute to the Academy's two hundred years of service to the United States of America.
GOALS:
The contest will provide students with an opportunity to:
• Learn about engineering through a realistic, hands-on problem-solving experience.
• Learn about the engineering design process–the application of math, science, and technology to create devices and systems that meet human needs.
• Learn about truss bridges and how they work.
• Learn how engineers use the computer as a problem-solving tool.
We also hope students will have some fun pitting their problem-solving skills against those of other virtual bridge designers around the globe.
RULES:
Who: U.S. students age 13 through grade 12 are eligible for prizes. Anyone else may enter our Open Competition. More about eligibility…
When: The 2010 contest doesn't begin until January 28, 2010, but you can download the WPBD software and start practicing right now! More about this year's contest schedule…
Prizes: Each member of the first-place team will earn a $5,000 scholarship. Each finalist will win a notebook computer. More about prizes…

Procedure:
• Download and install the West Point Bridge Designer 2010 software.
• Use the software to design and test a virtual bridge.
• Register your team.
• Log in and submit as many designs as you like.
Please see the West Point Bridge Design Contest Website for more information

Filed under: Grades 6-8, Grades 9-12, K-12 Outreach Programs
Tags: Bridge building, Bridge Design, Civil Engineering, Contest, Design, Grades 6-8, Grades 9-12