Posted on
March 15th, 2010
by ASEE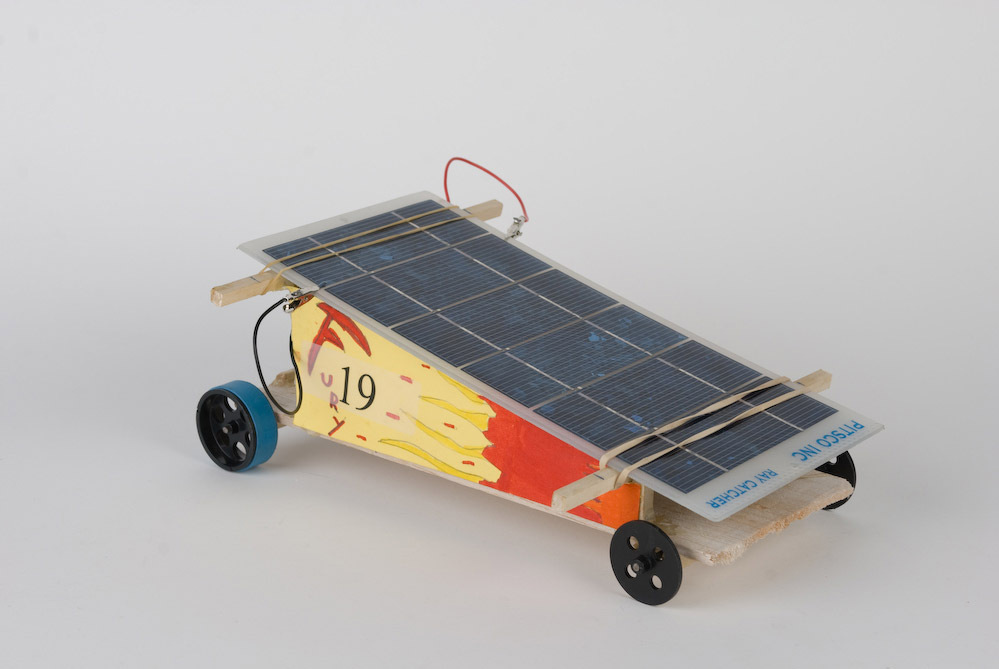 Level: Florida Students Grades 6-8. Date: May 1, 2010
The 2010 Junior Solar Sprint
Florida Solar Energy Center, May 1, 2010.
Florida Middle school students, 6-8th grade are invited to design, build and race Junior Solar Sprint (JSS) cars. The small model cars — powered entirely by solar energy and steered by wires — are built as team efforts guided by teachers.
The Statewide Junior Solar Sprint competition is traditionally held as part of the EnergyWhiz Olympics. Florida coordinators of the Junior Solar Sprint offer students several opportunities to demonstrate the performance of their vehicles. At each event, cars are judged on technology, craftsmanship and appearance. Each car then competes in the track portion of the event. Vehicles race until three winning teams in each category are determined.
How to enter the Junior Solar Sprint
The Junior Solar Sprint is open to all Florida students in grades 6-8. Race teams are to be made up of two to four students with at least one teacher/mentor. The 2010 Junior Solar Sprint will be held at the Florida Solar Energy Center. To pre-register, fill out the online registration form.
Why get involved?
Transportation in the United States is expected to change radically in response to environmental constraints, fluctuating oil availability and economic factors. The transportation systems that emerge in the 21st century will be defined largely by the choices, skills and imagination of today's youth. As scientists and engineers, they will develop new vehicle and fuel technologies. As citizens, they will make decisions balancing mobility, environmental and economic needs.
Junior Solar Sprint challenges students to use scientific know-how, creative thinking, experimentation and teamwork to design and build high-performance solar electric vehicles. Students learn by doing.
Resources
Solar Car kits can be purchased from Solar World (719) 635-5125 for $30.00, or from Pitsco. The regulation kit includes: 3V photovoltaic panel and an electric motor that is paired to the panel.
Teacher resources
The Florida Solar Energy Center will serve as the Junior Solar Sprint school contact and provide technical assistance and free teacher materials. Check the JSS Website for more information.
Additional information on the Florida Regional Junior Solar Sprint:
• Race Rules • JSS Supplemental activities • JSS Video
The Society of Automotive Engineers (SAE), will serve as the technical advisors and race consultants for the Junior Solar Sprint event. Linda Lung, of National Renewable Energy Laboratory at 1-800-NEWENGY, is the National Coordinator. Support materials are available on NREL's Junior Solar Sprint page.
A video describing the Junior Solar Sprint program which includes footage of actual races and students discussing the design and construction of their vehicles can be viewed here or is available in dvd format from FSEC for $5. For information, click here to contact Penny Hall or call 321-638-1018.
Filed under: Grades 6-8, K-12 Outreach Programs
Tags: Automobiles, Automotive engineering, Competitions for Students, Solar Engineering